By Meagan Loyst, Founder of Gen Z VCs & Investor at Lerer Hippeau
If you're not already familiar with TikTok, welcome to the party 🥳 🎉
With over 1 billion monthly active users & a user base that's predominantly Gen Z (60%+ to be exact), this is where the next generation of consumers & workers are spending their time – to discover, to learn, and to be entertained. And, it's addicting: I spend 14+ hours a week on TikTok, and I'm not alone.
Being early to TikTok presents a massive opportunity for founders & brands to build awareness for their startups – driving downloads for apps and sales for D2C companies and services, and building an organic community along the way.
To help founders and startups navigate this new world, I spoke to some of the top founders & startups on TikTok and summarized the top 10 tips & tricks that help scale both founder-led and brand-led accounts.
I also featured thoughts/personal anecdotes on larger accounts that are crushing it on TikTok, like Duolingo and Notion.
Think of this like being early to Instagram or Facebook a decade ago… except now, you can scale with organic content vs. paid advertising (and have that content continuously work to your advantage). Let's get started ⬇️
1⃣ Find your niche. And trust me, your niche audience is likely bigger than you'd think.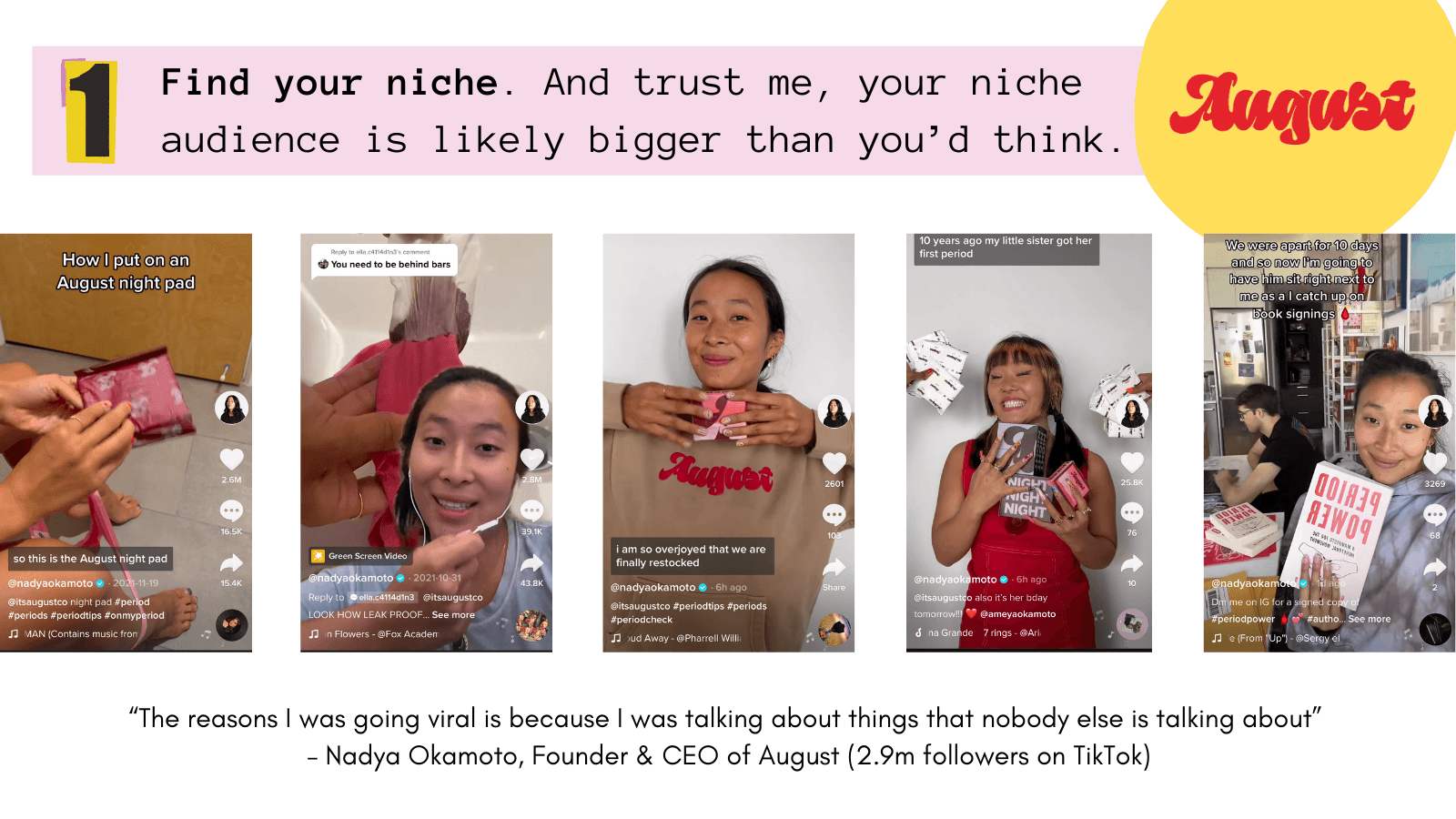 Here, I'm going to start with 24-year-old Nadya Okamoto, her rise to TikTok fame, and how it's made such an impact on growing her sustainable period brand, August. She launched her TikTok account in June 2021 and found success on the app very quickly – growing from 0 to 2.6m followers in only 8 months. This is very difficult to do.
Nadya has spent nearly her entire life elevating conversations about periods. In high school, she started a non-profit called Period to end period poverty and stigma through service, education and advocacy. She then authored a book called PERIOD POWER: A Manifesto for the Menstrual Movement, did a fantastic Tedx talk on the menstrual movement, and eventually started a Gen Z sustainable period brand called August. Needless to say, she's stayed true to her personal brand around periods her entire life… and that extended into TikTok.
Now you might think that a woman's period is a niche (and maybe even controversial) topic to create a brand / content around… it's only one week a month right? Well, no.
There are 3.9 billion women in the world (half the population). The average American woman will have ~450 periods in her lifetime. Added up, this equates to around 10 years — or about 3,500 days — of the average woman's life that will be spent menstruating. You can't tell me that's "niche." Nadya was one of the first to bring important period conversations to TikTok, quickly building a following around her niche. And remember, 60%+ of TikTok users are Gen Z which is August's target audience, creating an opportunity to educate young women/girls who are getting their periods for the first time and looking for places to learn.
Nadya's first viral video was a video she posted of an old speech she gave about the tampon tax… how 40 states have a sales tax on period products, considering them as a luxury (vs. products like Rogain & Viagra being considered essential goods). Then she experimented with new (and perhaps controversial) methods to drive virality and conversations towards August products – posting videos of her period blood (37m views & pinned on her profile), putting on a pad (32m views & pinned on her profile), and even discharge and what it means.
"The reasons I was going viral is because I was talking about things that nobody else is talking about" – Nadya Okamoto, Founder & CEO of August
And her community loves it – it's empowering for young women to see someone celebrating periods, versus feeling the need to hide it. Her comments section is full of comments like:
"You help me feel more comfortable in my body <3"
"I just started my period :)"
"You are like a mom to me and that is something I never had ahhh I love you"
"You are literally y i have confidence, keep doing what ur doing 🥳"
Nadya's role in starting conversations around periods and women's health is just one example of a content niche – people on TikTok are weird and unique - you'd be surprised what type of content people gravitate to (ie: Berries and Cream trend from an old Starburst commercial that dominated TikTok for weeks). I'd encourage you as a founder or brand to dig deep into your mission & what motivates your audience, and then stay true to that as you start creating content.
2⃣ Getting your first viral video. You usually can't plan for it, so create often.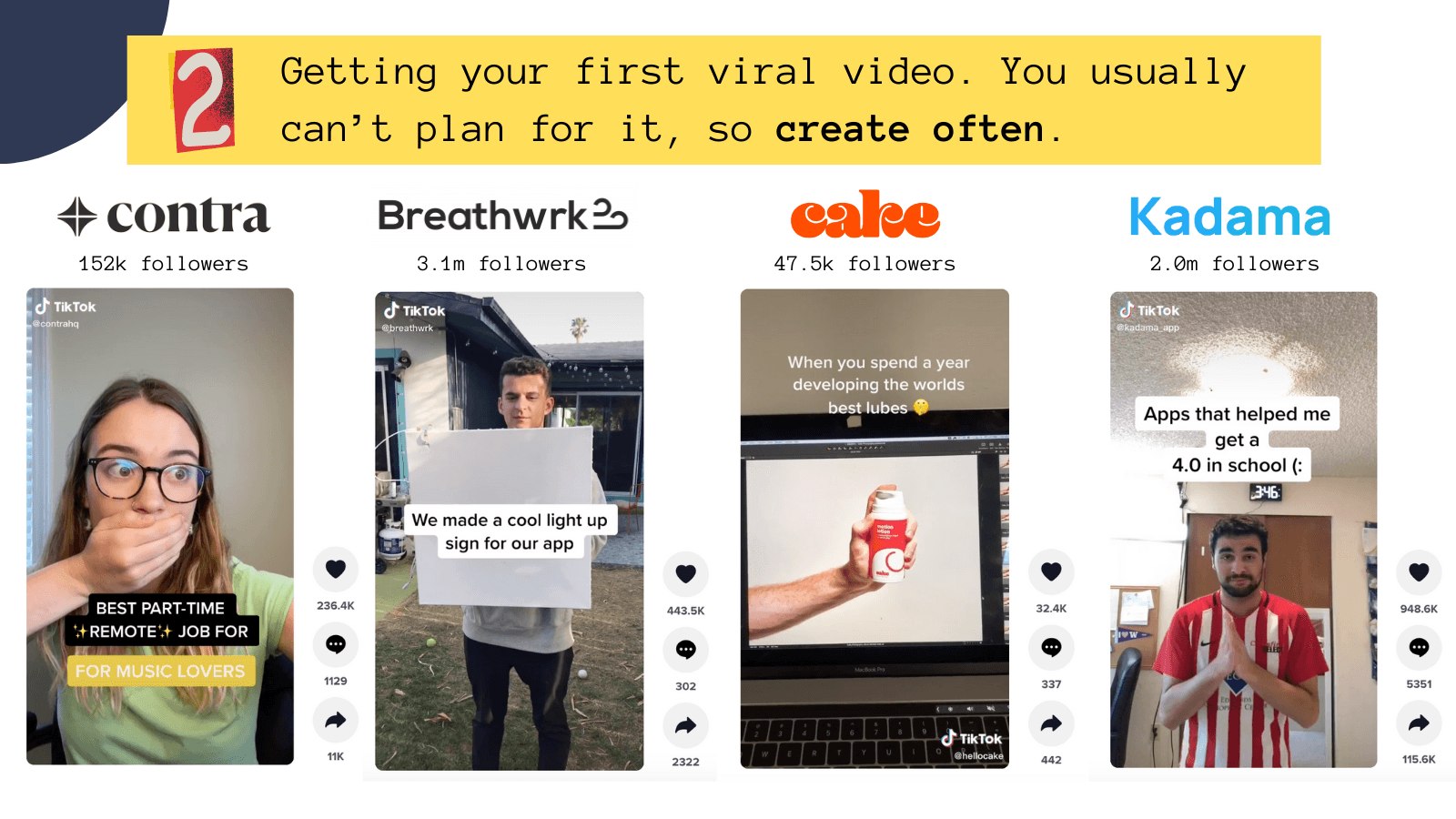 After speaking with so many founders, it was clear that many of their first viral videos were random or happened by chance – it's difficult to manufacture virality on TikTok on Day 1. It often takes experimentation with different series, content styles, and sounds to find your rhythm / build an audience.
Showcasing your app organically (and consistently)
For EdTech app Kadama, it took ~2 months (8th video) to have their first viral video with 7.7m views and 948k likes. TikTok's mantra for businesses is "Don't Make Ads, Make TikToks," and this makes sense – Gen Z notoriously hates being sold to and prefers organic/authentic content. Kadama nails this approach on TikTok, consistently posting tips and tricks to ace exams/essays/homework instead of explicitly advertising.
Kadama's viral video was a tips video showing students "Apps that helped me get a 4.0 in school (:" with one of them being Kadama. They didn't even speak in the video, just pointed to 5 apps on screen to the beat of the music in <15 seconds – plain and simple.
Then from there, the Kadama team had a set content strategy – they created content based on the school/calendar year, spending on average 4 hours a day making content (& usually including about 2 hours planning). They'll come up with a script idea and have 4 greenscreen setups in homes/offices to make content on-demand. It's gotten more difficult as they've scaled, with their CEO/founder Amin noting "there's new challenges when you try to maintain that account and grow to 2-3 million followers." These newer challenges include coming up with new ideas, pivoting to content your audience asks for / wants to see, finding time to produce content as your team and product scales, etc.
From the Kadama CEO's POV, there are 2 approaches to defining a content strategy that's worked for him:
Posting weekly / monthly: Higher production quality videos that your audience expects – you know these videos come out less frequently, but will likely have cultural impact or effects. You may be building suspense around a series for example and have more predictability around this type of content resonating with your audience.
Posting daily: Especially in the early days, this is the preferred method – when you don't know what works, and have a better chance at achieving virality if you post frequently. "It does a better job engaging your followers so they don't forget who you are. We can keep building that relationship with them"
Behind the scenes videos
For Cake, a sexual wellness company that sells products like sex toys/lube (and a Lerer Hippeau portfolio company), it took 12 videos and ~6 months to have their first viral video. With 279k views and 32k likes, it showcased videos of their lube products with a caption saying "When you spend a year developing the world's best lubes 🤫." They weren't explicitly talking about their product, but instead were showcasing the product and making their audience know how much time / effort went into the creation of the product.
For Breathwrk, a breathing exercises app, it took 5 videos and 3 days to have their first viral video. With 3m views and 443k likes, it was a video of Breathwrk's founder Max making a light up Breathwrk sign for their new office saying "We made a cool light up sign for our app." There was no storytelling about the app or what they do – just offering a behind the scenes look at a cool DIY project from the POV of a young founder.
Develop a series to drive continuous engagement
For Contra, a new professional network/community for independents, it took 9 videos and 5 days to have their first viral video. It was the first video in a series where Contra posted remote jobs every week – this one being a freelance "lyric associate" for Genius – that you could apply to through the Contra platform. It showcased one of the Gen Z women running Contra's TikTok account freaking out about the role, with Olivia Rodrigo's popular "Driver's License" TikTok anthem playing in the background and a caption saying "BEST PART-TIME REMOTE JOB FOR MUSIC LOVERS." She didn't even mention Contra in the video, caption, or comments – rather just got them excited about the role/opportunity and directed TikTokers to Contra's link in bio to apply.
For Rag Report, a TikTok fashion account run by the Gen Z media company Kyra, they experimented with a number of different formats to kickstart their viral growth – and it's their jobs to create viral content for a living. Here are a sampling of their most popular formats/series:
3⃣ Outsourcing vs. In-House Content: Should you hire a team of freelancers? Create content as a founder? Find someone internally? Really, it's up to you.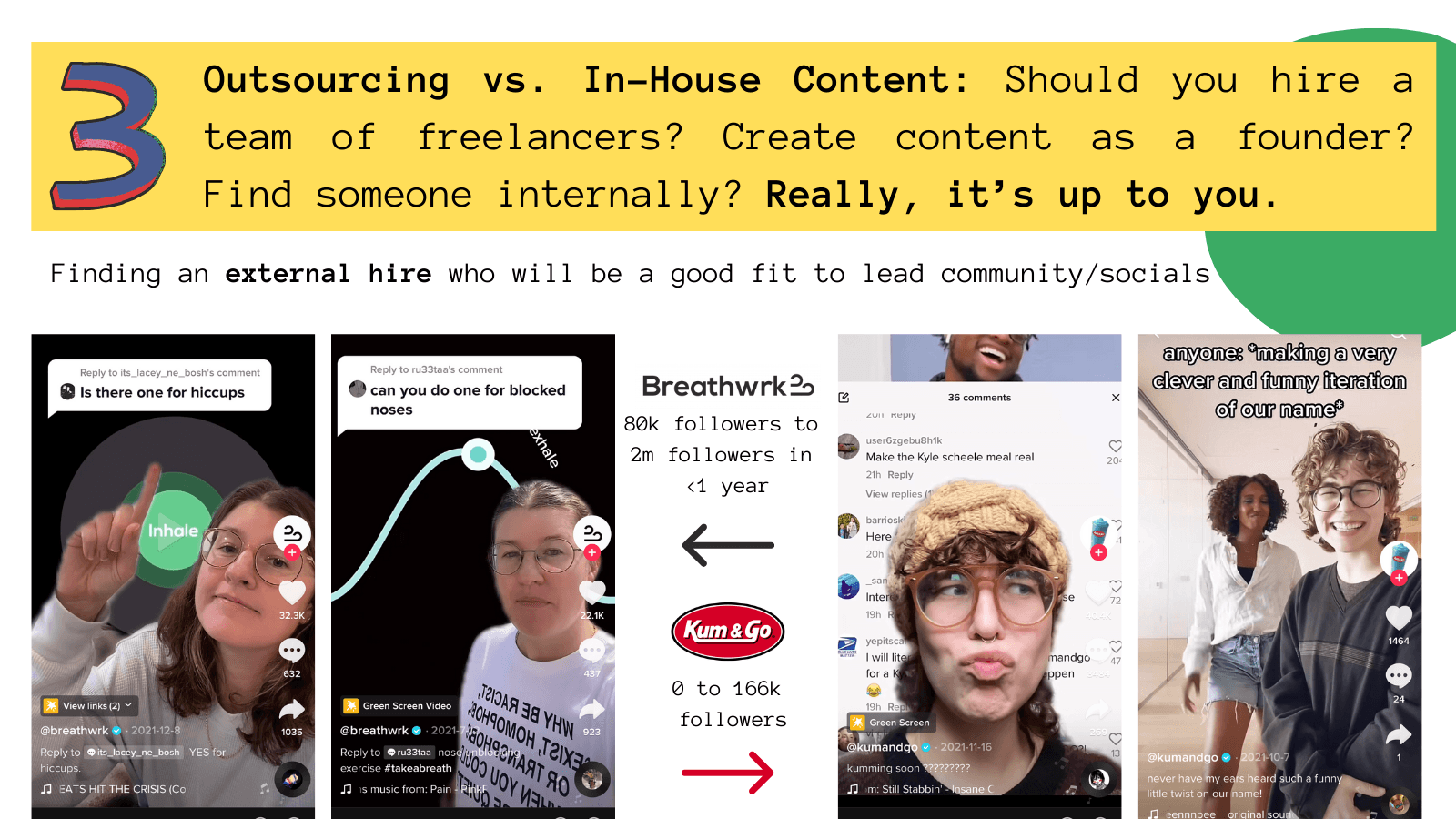 We've already discussed a few examples throughout of founders choosing to make content or outsource in some fashion – there's no one right way to build a TikTok following, so you have to do what's authentic to you. The most important thing is finding the right person who identifies with your brand voice & mission that your audience can see themselves in – this can be you as a founder, someone on your team, or someone you find in your community or externally.
Finding an external hire who will be a good fit to lead community/socials
Above, I mentioned Breathwrk's first viral video of their founder/CEO Max making a DIY sign for their office, leading to 80k followers effectively overnight. This was also in the early months of 2020 when brand presences on TikTok were fairly nascent, so acquiring users quickly was easier to do. However, if you continue watching videos from the Breathwrk account from 2020 onward, you'll notice that Max rarely appears. After that first viral video, they looked to hire someone onto the Breathwrk team to own their TikTok social presence – that person ended up being Davi Brown, whose official title is Head of Community & Education at Breathwrk. Davi was already posting breathing exercises on TikTok, so she was a natural fit for creating that type of content for Breathwrk. And since joining the team, she grew the account from 80k followers to 2m followers in <1 year, and then from 2m to 3m in just a couple months.
The same can be said for Kum & Go, a midwest gas station chain/convenience store, which looked externally to find a native TikToker to push their boundaries on the social app (and grow to 166k followers). Ariel Rubin led communications for the company and knew he wanted them to be on TikTok, but felt like someone younger would help them push the corporate boundaries to find relevance. He asked a friend from Iowa Safe Schools if they knew any brilliant creative kids on TikTok from the high schools where they ran sessions, and they pointed Ariel to Evelyn (they/them), a 19 year old who had just graduated and who had ~150k followers at the time. He called Evelyn to ask if they wanted to run Kum & Go's TikTok, and the rest is history.
"Evelyn had total creative freedom to do whatever they wanted (within a few basic ground rules). We would run through ideas together, we only communicated really by text message and the occasional in-person meeting. But by and large, Evelyn just ran with it, would pitch me wild ideas, and I'd say 'go for it.' Our entire social media strategy at the time at Kum & Go was to push the boundaries of what a conventional gas station in the Midwest could and would say. It was also to push a progressive voice."
– Ariel Rubin, former communications lead at Kum & Go
Looking within your existing team to tap a TikTok hire
For Cake, co-founder Mitch Orkis began creating content in the beginning, but then ran out of time – this is common for founders who are juggling every aspect of growing an early stage startup. And with TikTok, especially in the early days of growing a following, you need to be consistent and give your followers a reason to come back for more – Mitch realized this and found the perfect person to tap from his team.
"The challenge with TikTok is you have to be posting frequently – having it be entertaining, jumping on memes etc. – and if you don't have time to jump on memes and do your rif/take on them, your follower count goes down quickly." – Mitch Orkis, Co-Founder of Cake
A woman named Quincey who is an actor in LA, moonlighting on Cake's customer service team volunteered to make TikToks, and the rest is history. "At this point, Quincey now runs the show" noted Mitch. Cake is now expanding their team and bringing on ~4 more content creators, optimizing for fit more than anything & also diversity in sexual preferences to have multiple relatable personas. As for the type of creators Cake is looking for:
"They are already making the type of content that we like… they're well known for it and they like to do it. We are purposely only going after TikTok creators who are already are on TikTok & already creating content." – Mitch Orkis, Co-Founder of Cake
And this is the beauty of TikTok today… everyone is and can be a content creator, and you don't need a ton of experience to build a following. Odds are if you ask around or spend time in the TikTok app, there are likely people creating within your niche that are searching for opportunities.
Building a Gen Z army of creators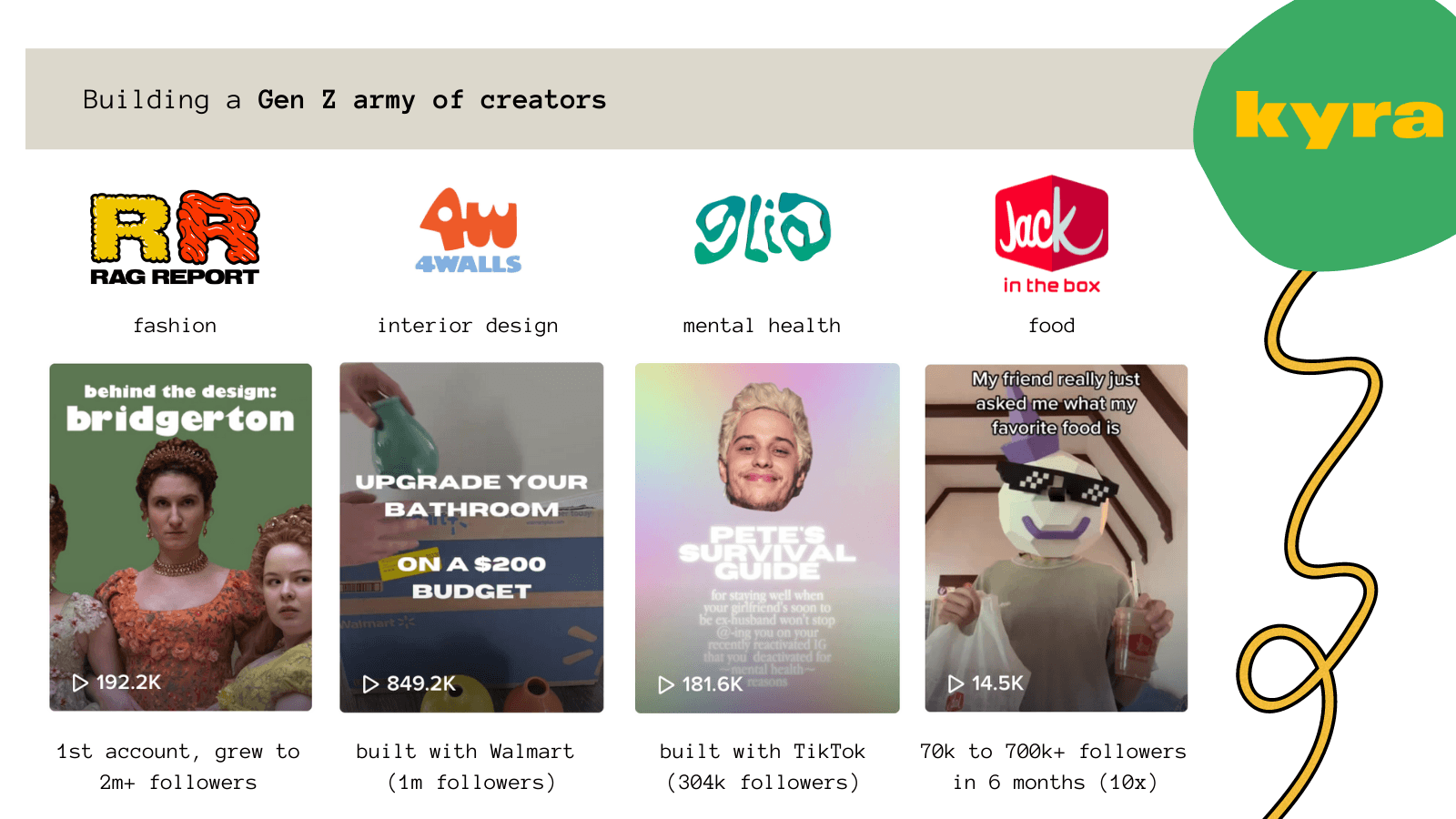 Kyra is a media company at heart, and their job is to make viral content – they certainly know how to do it, running accounts across different niches that have over 1m followers.
Rag Report, fashion, 1.6m followers
4Walls, interior design, 1.0m followers
Glia, mental health, 304k followers
They also are often given the "keys to the castle" to run branded accounts – take fast food brand Jack in the Box, where the Kyra team was able to grow their account from 70k to 700k+ TikTok followers in 6 months (10x). They're currently working with ~10 brands in this capacity.
To pull off this massive content creation engine, Kyra hires creators in-house onto their team – many of whom actually find them through TikTok. Kyra will post ads on TikTok to hire new creators, and it's been a successful channel for them to expand their team.
Another thing to note is Kyra's team is quite young – optimizing for potential and knowledge of the TikTok platform vs. years of experience. Here are the first questions Kyra's CEO asks new new content creators looking to join their platform:
"How much do you TikTok? What are your favorite, favorite accounts on the platform? We're trying to get some sense of whether they really get it or not." – Kyra Founder/CEO Dev Karaca
You don't need to go crazy to find the right people – odds are, there are plenty of Gen Zers out there making content that would love to do it professionally or make a larger impact through working with a brand they love.
Having a founder-led presence on TikTok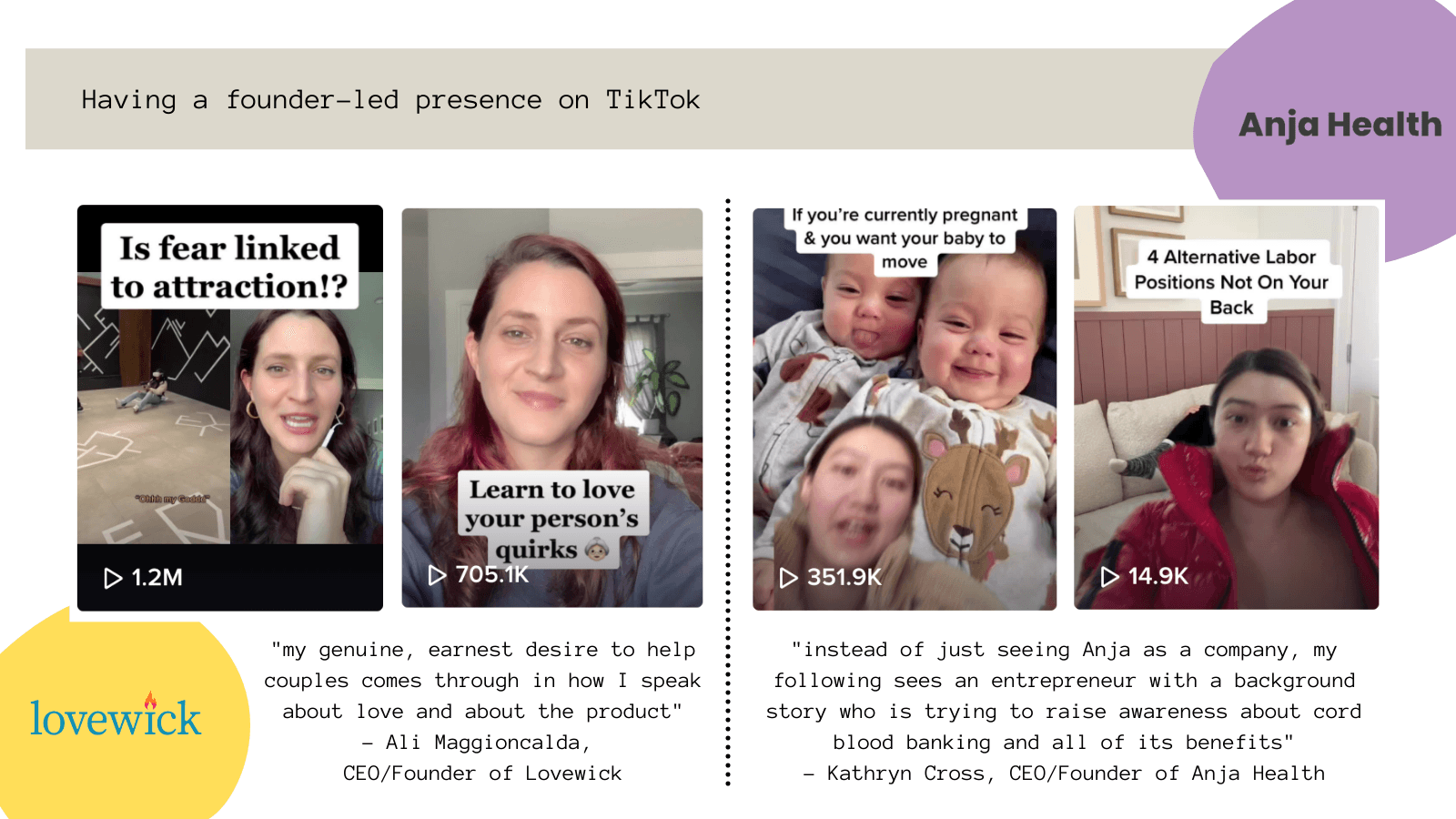 If you're a small team or startup just getting started, launching your own TikTok presence can be a great way to go.
For EdTech startup Kadama, one of the co-founders (Dani Shaykho) still makes the majority of the content on their page – if you scroll through their account, you'll see his familiar face & content series he runs like "Don't Tell Apple – iPhone Hacks" & "Don't Tell Your Teachers – Secrets Your Teachers Don't Want You To Know."
Kathryn Cross has grown her account to 97.5k followers since consistently posting in June 2021, and creates a ton of content geared towards pregnant women in the hopes to create awareness around cord blood banking & her startup in the space, Anja Health, which is in the current YC batch. Similar to how Nadya has grown her personal account alongside the August account, sometimes it's easy for people to identify with a person vs. just a company – Kathryn agrees.
"It helps people build trust with the brand more. Instead of just seeing Anja as a company/institution, my following sees an entrepreneur with a background story who is trying to raise awareness about cord blood banking and all of its benefits. Especially because there's been an anti-institutional/anti-capitalist societal push in recent years, having a person/story affiliated with a brand can be really impactful." – Kathryn Cross, Founder/CEO of Anja Health
Spending time on TikTok as a founder can also lead to a more direct relationship with your users and relative insights that can help improve your startup/app as well, as was the case with Ali Maggioncalda, Founder & CEO of Lovewick, who created an app for couples.
"To be honest, I was initially hesitant about associating my face with the Lovewick brand. I'm a relatively private person (all my personal socials are private) and building an inclusive product and brand is super important to me, so I didn't want my age, gender, race, sexual orientation, or anything else to alienate potential users. That said, folks on TikTok seem to really value authenticity and trust, and I personally find it so much easier to trust a person than a disembodied "brand". I think my genuine, earnest desire to help couples comes through in how I speak about love and about the product, and so I challenged myself to get outside my comfort zone and experiment with content creation for at least a month, posting every few days. Ultimately, the engagement on TikTok and insights I've learned through using TikTok has completely changed the trajectory of the company -- I'm really glad that I took that risk to put myself out there!" – Ali Maggioncalda, Founder/CEO of Lovewick
And it's okay if this changes as you scale, as we've seen with Nadya and what she's done with August. Nadya has dedicated a ton of time to creating content (in addition to all the other demands of being a founder/CEO). She's been making 20-50 videos a day since launching her account in June, dedicating no more than 2 hours a day to creating content.
This method can be incredibly cost effective for scaling a new brand – August spent a few thousand on influencer marketing in their first month of launch to test out the channel, but decided to not continuously invest in it. Now they lean more heavily into organic community engagement. For context, Nadya's link in bio has nearly 20k clicks a day, and August has spent <$10,000 on paid advertising over the last few months (they haven't really leaned in here on paid).
And another important distinction on founder-led brand building is that Nadya does not encompass August's entire brand identity – it's powerful enough to stand on its own. August intentionally has its own account with 170k followers and a team of ~5 people creating content from a different point of view.
"I am a creator that has a stake in August, and I'm going to make a f*ck ton of videos for August… but August is not Nadya. Because as a brand and the diversity of Gen Z, I cannot represent all period experiences and all August experiences." – Nadya Okamoto, Founder & CEO of August
4⃣ Stick with organic in the early days, experiment with paid later.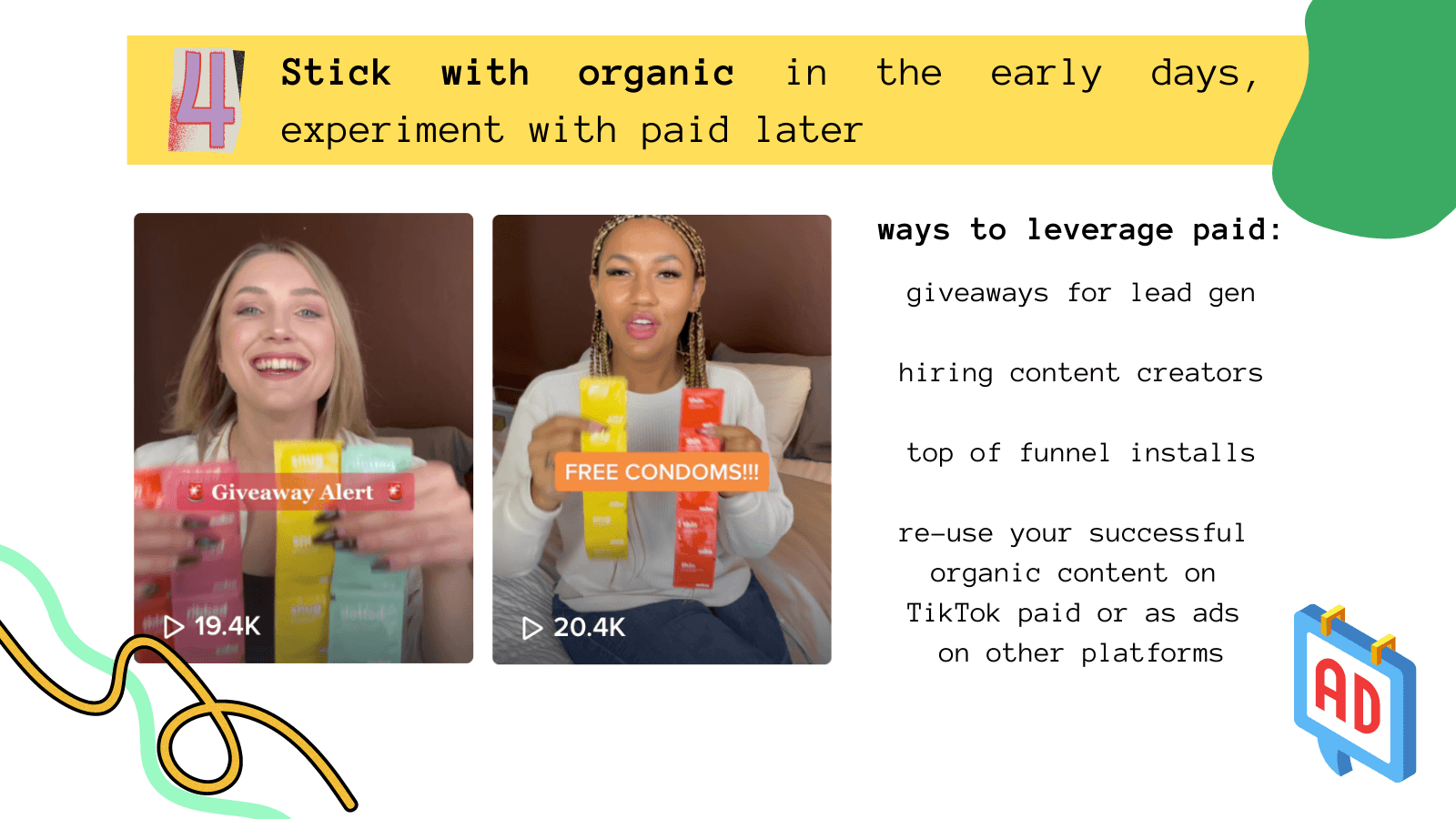 TikTok launched the beta version of its ad platform in early 2019, and then did a broader platform launch in June 2020 called "TikTok for Business" to serve as the destination for marketers and brand accounts. Fast forward a year and a half, the paid advertising side of TikTok is still largely in its infancy with many founders finding more success/optimization on IG/Facebook. After speaking with a bunch of early stage founders, it's clear that organic has been the best performing channel on TikTok from an ROI perspective – invest in organic content when you can.
However, there are benefits to testing a new/emerging channel like TikTok, even if the impact doesn't correlate to direct sales. Take Cake for example, who's found success doing lead gen campaigns on TikTok Paid. For companies selling products in the sex category, it can often be difficult to scale paid advertising on any platform (Snapchat, FB, IG, TikTok, etc.) so this is a creative way to get results.
Cake did a "free condoms" giveaway and advertised it on TikTok, which led to 10k new customers/leads in a month – 41% of those new email participants converted to customers.
Or take consumer app Breathwrk for example – they've found that TikTok Paid is better for converting free users/downloads vs. paying users from their paid ads. And this has proved to be an incredible top of funnel for them – Breathwrk has had nearly 700k installs through organic measures, 40% of which have come from TikTok.
Kyra has found that utilizing TikTok paid on top of organic content has worked well for them.
"We've tested a lot of paid ads, and they've done really well. I literally don't know why all brands, all publishers, and everyone isn't on this platform – just smashing content out and utilizing paid on top. They would just grow through the roof! Some of the paid content that has done well has been the more original content that we've done with different creators that are already big on the platform." – Dev Karaca, Founder/CEO of Kyra
Founders I spoke to that haven't tried paid yet plan to do so in the future, even if just experimenting with small test budgets in the early days.
5⃣ Don't ignore the comments section… that's your community.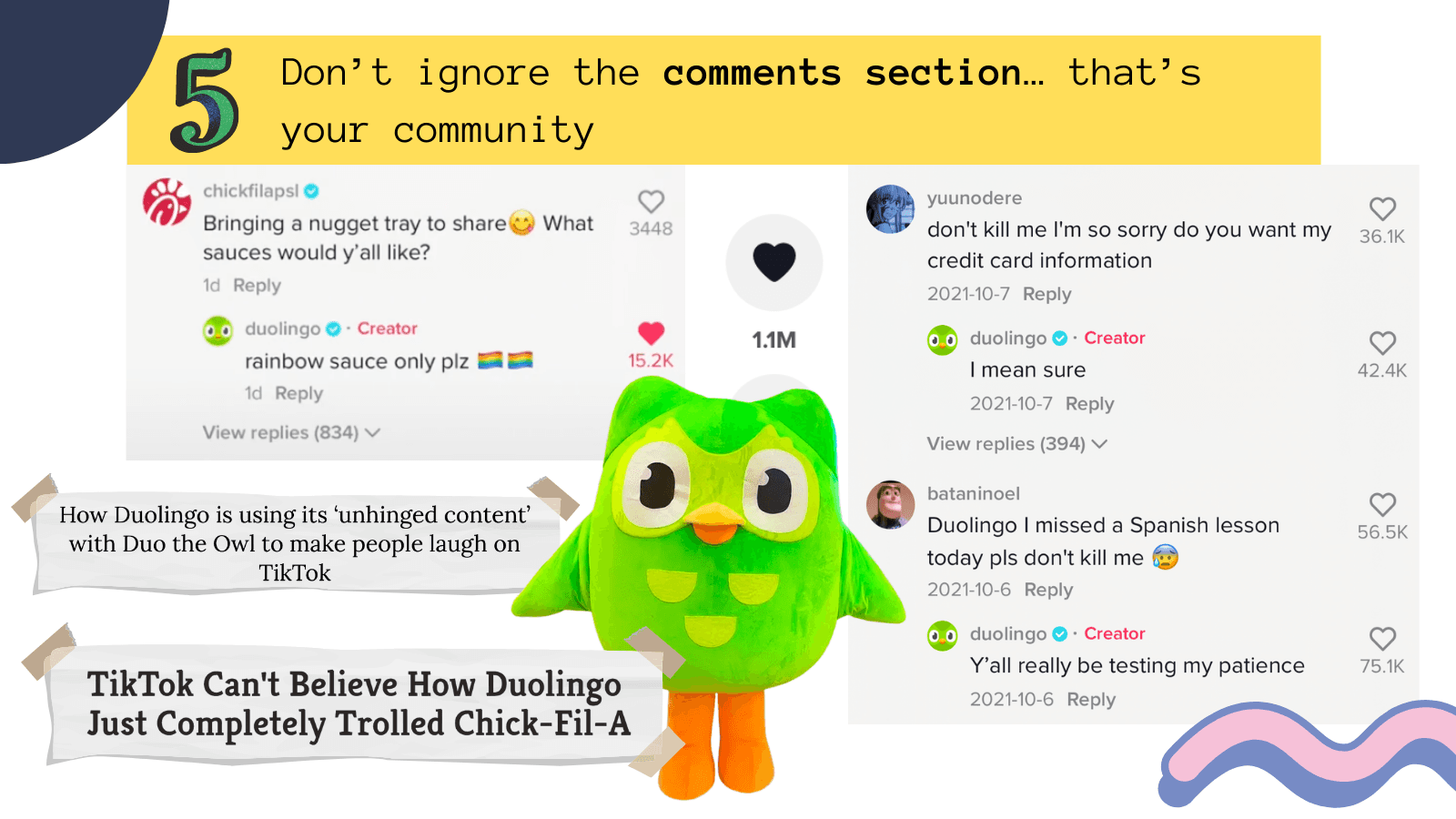 The comments section is an underrated way to engage with your followers and grow your audience on TikTok – being "on trend" means more than just making videos and expecting them to show up on someone's FYP, thoughtful & funny comments can do the trick as well.
A great example here of driving conversation through the comments section is Duolingo, a darling brand account on the TikTok app known for use of their green owl mascot and fiery comments. In the early days of Duolingo's success on TikTok, Chick-fil-a commented on one of their videos saying "Bringing a nugget tray to share 😋 What sauces would y'all like?" — to which Duolingo replied in the comments "rainbow sauce only plz 🏳️‍🌈 🏳️‍🌈" nodding to their stance on supporting the LGBTQ+ community (Chick-fil-a is notoriously anti-pride). This led to hundreds of duets on the app (+tons of love from the LGBTQ+ community), press coverage, and more – all attributing to the way Duolingo was building their brand presence on TikTok. This is very different from the way millennial social media managers of the past were encouraged to post and build their brands – the Duolingo account leans into the Gen Z POV / aesthetic in a material way, especially when it comes to dark Gen Z humor. You will see many comments on their videos of Duolingo threatening to kill users who don't do their language lessons on the app. If you're looking for a masterclass on engaging with other creators and brands from a brand account, look no further than this TikTok masterpiece from Zaria Parvez who runs the Duolingo account and routinely trolls people for engagement.
You can also look to a recent video from Cake and see how the comments likely boosted engagement (115k likes) and views (2m), simply because their new sex toy looks like a Lego hand. Cake noticed their comments section was all about Legos, so they leaned into it the next day saying "insert Lego hand joke here 😒😒😒😒😒" & simultaneously answering questions from users looking to buy the product relating to shipping, where to buy, etc. Be active in your comments section.
Breathwrk has taken a similar approach to Duolingo in being very active in the comments and speaking Gen Z's language – I've routinely seen them come up in the comments section on popular videos on my FYP (for you page). They've also taken advantage of cultural moments on the app in the comments section, such as engaging with creator Emily Zugay who redesigns logos to be… let's say more Gen Z friendly. After her viral videos redesigning logos like TikTok, NASA, Adobe, and more – many brands commented on her videos asking Emily to redesign their logos, leading to even more engagement and followers on the brand accounts. Breathwrk did the same & got Emily to redesign their logo.
"Responding back to comments and engaging with the comments has been our biggest strategy to grow – ​​I think that's naturally how you build that interest in the brand. My other piece of advice is to be active in the TikTok community in a way that's authentic to Gen Z – commenting on other brands, other photos, other posts, being funny and light hearted. You're not supposed to take it too seriously." – Max Gomez, Founder/CEO of Breathwrk
6⃣ Track attribution & understand the metrics of your videos so you can iterate faster.
TikTok can be an incredibly helpful channel in driving "top of funnel" awareness to your app or business, but it's important to have the right data tools in place to understand what's working vs. not (ie: what customers stay for the long-haul, convert to paying users, etc.).
Take Anja Health for example. As their CEO Kathryn has grown Anja from her personal account, she's made viral videos that are directly related to her business, and some that aren't – "a video unrelated to my business with 1M views has relatively the same impact as a video related to my business with <10K views." To me, this underpins the importance of quantity for founders/teams creating content – even videos with a smaller footprint in terms of views can have a material impact on your business if you're making content the right way.
Tracking the granularity of users that find you through TikTok is also important, especially as you scale. For eCommerce companies, usually the question you ask yourself is "does this person become a customer." Take Cake for example, who noted that roughly 10% of their sales a month come from people clicking onto their profile on TikTok and buying something.
By iterating with different types of content, you can also track the different types of users that find you, as Lovewick did. Their CEO Ali noted "In the first year of being on TikTok, we had more than 100k people download and sign up for the app, and our traffic certainly trended with video performance. Different videos attract different kinds of couples, too, so that's been really fun to see which value props resonate for which kinds of couples."
For a marketplace/professional community like Contra, they're tracking to understand if a video converts a supply side user (aka a creator) or a demand side user (aka someone who's looking to hire a freelancer). And tools can make this easy for founders, ranging from Bitly (custom URLs) and Segment (customer data platform) to Mixpanel (product analytics).
"It's really important to use Bitly UTM parameters and Segment to really understand the value flow of a Tik Tok user. Top of funnel awareness is the name of the game, but once your company matures, it's important to get really granular with their user journeys." – Ben Huffman, CEO of Contra
7⃣ Study other accounts in your niche to learn faster.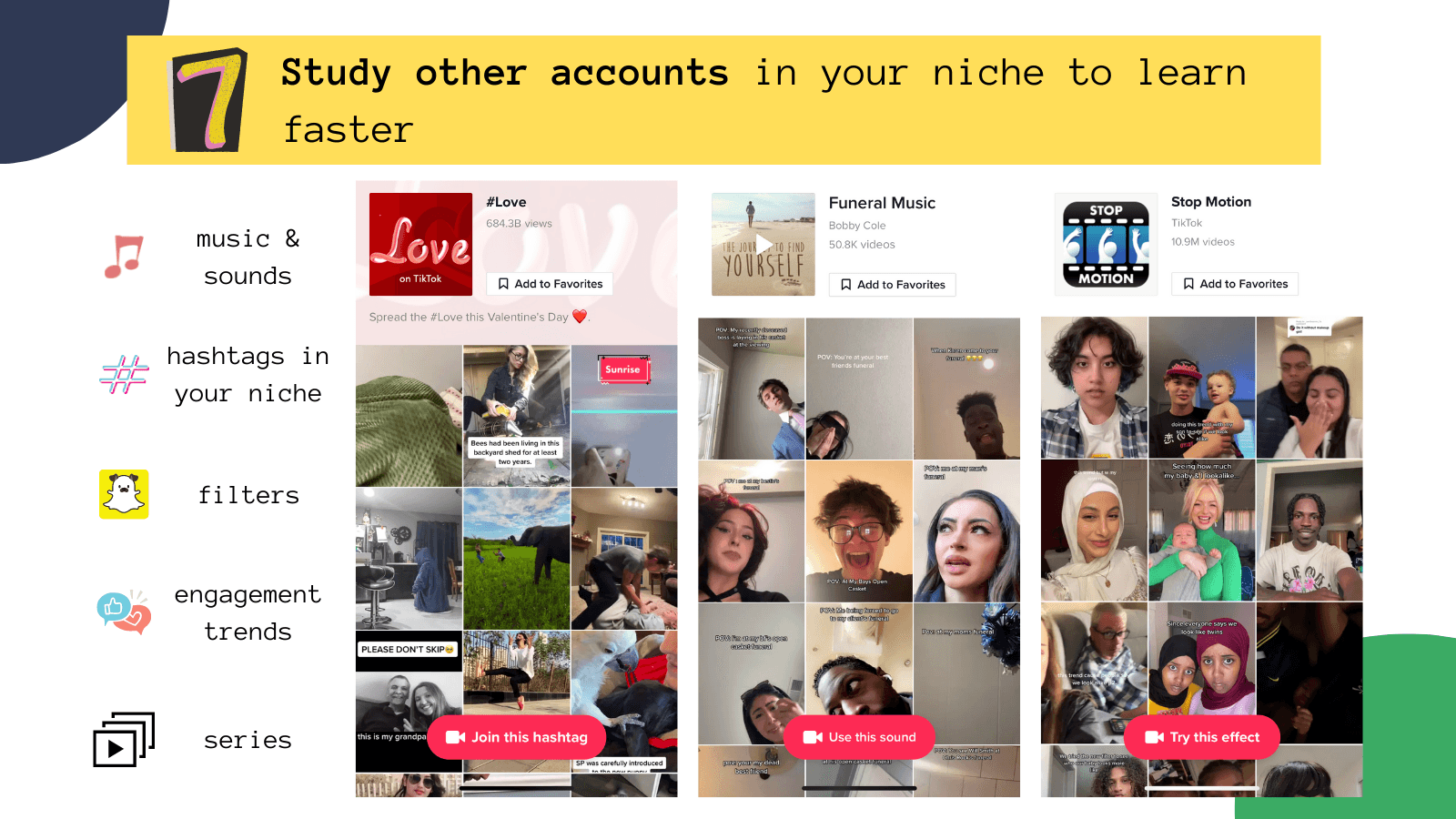 TikTok is all about experimentation, and you don't have to start from square one. It's often helpful to observe and see what's working for other accounts (or creators!) in your niche or adjacent ones before you get started. Maybe you'll notice that no accounts in your niche are leveraging their mascot… could be an opportunity. Or maybe you'll notice a particular trend that's resonating with similar users… again, could be an opportunity.
Kathryn @ Anja Health mentioned this explicitly in her advice to other founders looking to breakthrough on TikTok. She noted, "I wish I more carefully thought about how to make an audience really engaged. I think I could've more carefully studied other TikToker's strategies, but I'm trying to do that now. I really admire people like @Tinx who I 100% believe has better engagement than any other influencer/celebrity I've ever seen… nearly everyone who comes across Tinx's content loves it. There's always some form of content that has been done before in your niche, so you can find a playbook if you look for it."
And I completely agree with Kathryn on the Tinx point – she's long been one of my favorite creators on TikTok, and I trust her product recommendations more than I do a friend. See here and here for evidence – I've bought smoothies, blue light glasses, slippers, and more from Tinx because she's built such trust with her audience.
You can even train your FYP in the early days to see more content in your niche and learn faster, which is what Ali Maggioncalda (CEO & Founder of Lovewick, an app for couples) did as she got her "withlovewick" TikTok account off the ground. "For the first month, I was in full-on experiment mode. I did a lot of lurking and commenting, trying to train my fyp to be mostly love and relationship content so I could get acclimated to what performed well in that space for others. After a week or so of that, I tried to cast as wide a net as I could in terms of creating my own love and relationships content (ex: questions for couples, date ideas, gift ideas, research-based relationship advice) to see what seemed to resonate. I was super fortunate that I started seeing signal as to what people engaged with as early as my fourth video."
There are some creators who take a completely opposite approach and choose to only create TikToks vs. watch other TikToks so as not to disrupt their creative process. A couple months ago I was on a panel with Victoria Paris (1.3m followers) who mentioned this explicitly. From speaking with founders however who are new to TikTok and looking to learn/iterate quickly to drive conversion, studying other accounts can be helpful in getting up to speed.
8⃣ Leveraging other influencers or thinking about UGC? Start small / optimize for volume of creators. And don't give creators a script.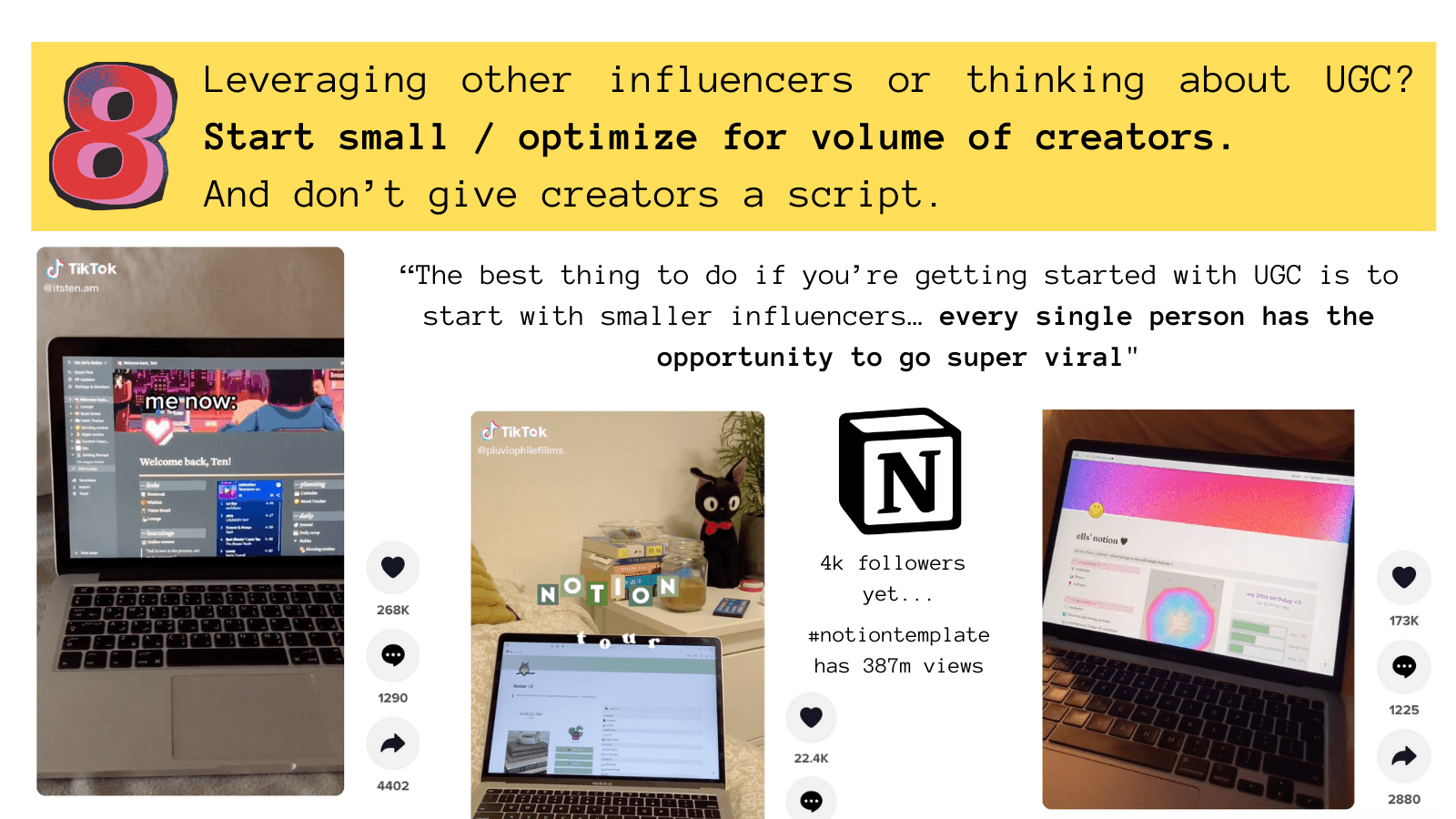 Something to remember… TikTok rewards good content, not just those with the most followers. This is one of the beautiful things about growing on TikTok and the FYP, and why leveraging other influencers or users/customers in your network can help drive virality.
A perfect example here is Notion, the note-taking & organization app, which blew up organically on TikTok in early 2021 because Gen Z users were sharing their Notion templates (that are cute and have personality, more similar to Tumblr boards). For example, videos related to "notion template" have 386m views on TikTok… entirely driven by users. Here are a few examples, with each user excited to share their unique template/aesthetic: exhibits one, two, and three. The funny thing is Notion only recently created their TikTok account (@notionhq, currently 4083 followers) in February 2022, meaning TikTok users were the ones that defined the brand on the app vs. the company itself. It'll be interesting to see how Notion builds their formal presence on the app in the coming months given they're just getting started.
Now… Notion has more than 20m users, so they have a bit of a headstart on the UGC side with many people already familiar with the product as current customers. What if you're a startup looking to manufacture some of this virality outside of your brand account? Leveraging influencers might be the answer.
Max @ Breathwrk made a good point here on strategy, in that TikTok is architected in such a way that optimizing for volume through a network of smaller influencers can often be more effective (both in outcomes/reach & cost) than getting a huge influencer onboard. His advice is as follows: "The best thing to do if you're getting started with UGC is to start with smaller influencers… every single person has the opportunity to go super viral. It's often better to pay $1,000 to 10 people who have a couple thousand followers than it is to pay $10,000 to one person who has 100,000 followers. This way, you get more creative so you can see what works." He noted that in starting small, you can then see what works and then scale those strategies (even off platform). One of Breathwrk's best performing ads on Facebook was actually a TikTok video from an influencer – they saw what worked within the app, and then amplified it in a channel that drives strong paid user conversions.
And the reality is, there are likely people that already love what you're doing that would gladly create content to be a part of your story. Contra's CEO Ben Huffman said it best, "Everyone wants to be a TikTok creator right now. You just have to find people in your niche and have a very structured way of showing how much you pay per video, sharing your brand guidelines, and creating a clean way to pay them."
And one thing to note in working with creators big and small – it's often best not to offer up a "script" to read from. The best TikTok content generally comes when you allow creators to do their thing & be creative. Even last year, I was on a panel with Abby Roberts (17.3m followers) who's one of the top beauty creators on TikTok, and she noted that her audience engages more (aka products sell better) when she's actually excited about the content she's making, versus reading from a script.
9⃣ Partnering with TikTok? Early days, but more opportunity soon.
In June 2021, TikTok launched its Jump program to offer third-party integration tools that allow startups to create an app within the TikTok ecosystem with HTML5 compatibility and minimal technical integration. Jumps make it easy for partners to build, deploy, and "dynamically extend the TikTok experience into real-world action." It's not completely open to the public, as they currently have an application process that startups can apply to, but I imagine this will become more widely available in the coming year. So instead of having your users navigate to your link in bio or the comments section, they can click it natively within the video and be directed to your "app" within TikTok.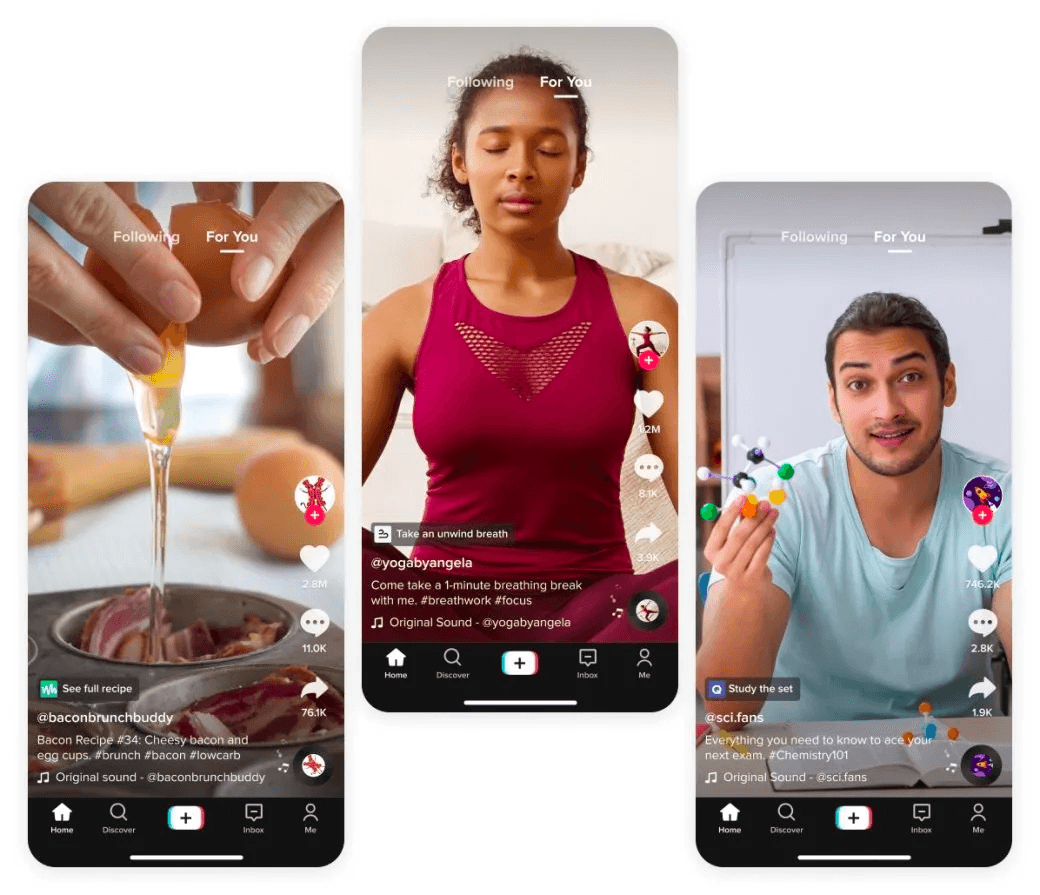 Breathwrk was in the first cohort of beta users on Jump alongside Quizlet and three others, and it was an easy yes for them to pilot this concept of having an "app within an app." And it paid off… Breathwrk's app within TikTok has 500k users.
"Our app makes sense because it's really easy to use, and now users can do breathing exercises in the app. It's been an amazing way to get validation and cement us as one of the big brands on TikTok – not only do we have the following, but we also have an app within TikTok, and it's been really exciting for that to be used by a bunch of different creators." – Max Gomez, Founder/CEO of Breathwrk
​​And that's another important thing to note – creators can leverage the "Jumps" links within their own videos. So for example, when I go to make a TikTok video, I have the option to "add a link" right before I publish – the only ones currently available for me to use are Quizlet (flashcards), Rotten Tomatoes (movies/series), StatMuse (sports players/scores), Whisk (food recipes), Breathwrk (breathing exercises), Buzzfeed Quizzes (quizzes), Disco Loco 3D (Zynga's musical runner), IRL (discover groups/events), and Liist (save locations). Again, I imagine this list will expand overtime and become more of a marketplace for creators as TikTok expands their Jump program out of beta.
Contra is another customer here using the Jump functionality. While I can't personally use it as a creator, Contra's creative team constantly adds their Jumps links to their videos so users can view job postings without leaving the TikTok app. Contra's CEO Ben noted it's particularly helpful on the analytics side as they leverage influencers and build partnerships within the TikTok ecosystem.
Facebook marketplace watch out… TikTok is comin' for ya 😈
🔟 Make trends your own… and don't sell.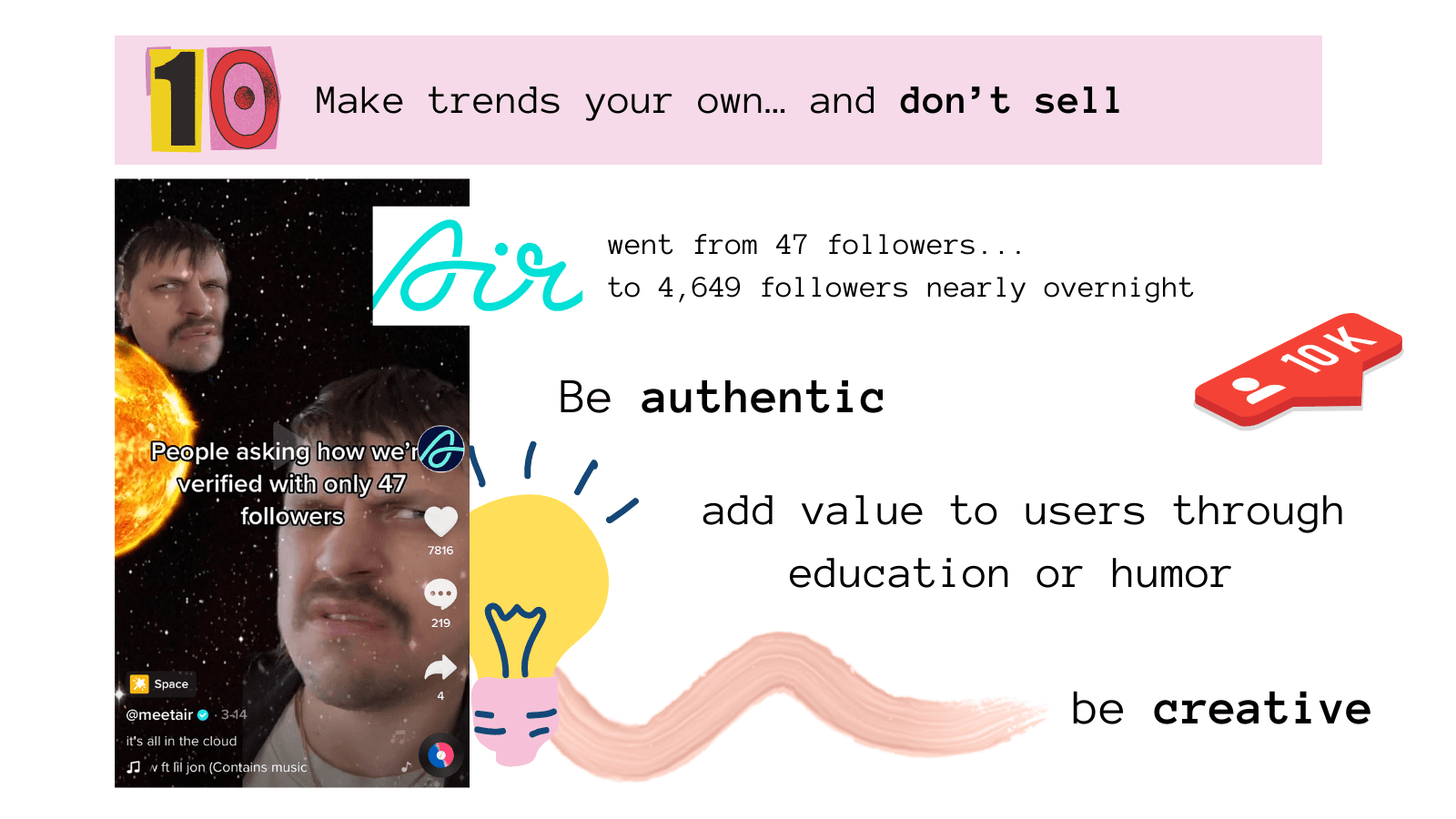 We already walked through tips and tricks in landing your first viral video… but then what's next? How do you maintain relevance on TikTok? Being on trend can certainly help, but more importantly, making them your own while staying true to your brand/mission.
If anything was universally recommended by the founders & TikTok experts I spoke with, it was that you can't just sell things on TikTok. You need to participate in the TikTok community and trends, giving your team the freedom to be creative. It's also why I wrote a 29-page TikTok manifesto on the importance of music/sounds in finding virality on the app and keeping up with trends.
Let's take Air (@meetair) for example, which went from 47 followers to 4,649 followers nearly overnight (and got their first viral TikTok video!) because they participated in a viral trend. (Air is a Lerer Hippeau portfolio company.) A trend happening right now on TikTok is people using the "Space" filter paired with the Reading Rainbow theme song, featuring their faces floating around with planets commenting on a confusing topic. Air is an enterprise startup creating the creative operations system for marketers – their viral video came directly from participating in this trend, with their play on the trend saying "people asking how we're verified with only 47 followers." The comments section really boosted the video (218 comments, 60.9k views), with users commenting which # follower they were (ie: comments like "237th follower," "I'm your 1258th follower. what an honor," and "THOUSANDTH FOLLOWER").
The same can be said for custom hair care products Prose (@prosehair) who saw 200k views on their video recreating a viral trend associated with a song from Disney's animated movie Encanto – Prose has 35k followers, yet TikTok's algorithm/FYP routinely pushes trending content beyond your following as a brand, leading to more views and discovery. (Prose is a Lerer Hippeau portfolio company.)
Participating in trends to maintain relevance is important, but "not selling" is just as crucial as you create direct content for your products/services. Be authentic, add value to users through education or humor, and be creative.
Here are some final pieces of advice & examples from the incredible folks I spoke with to piece together this article – on authenticity, staying on trend, and creating content that works.
"Don't use TikTok just to "sell"; use it to learn. You can learn so much by interacting with folks in the comments, soliciting feedback, and being aware of what is trending in your niche." – Ali Maggioncalda, CEO/Founder of Lovewick
"We have a very, very, very clear and easy to understand mission, which is to help the world have more fun sex. That is such a big and unifying thought, so we just let our creators riff off of the idea of 'how do you have more fun sex.' Every time we did a video with 1m+ views, it was always completely not strategized, not trying to tie into a product or push anything. It was just against the mission of having more fun sex." – Mitch Orkis, Co-Founder of Cake
"In my old consulting business, I used to work with clients where we'd have meetings and sessions about 'how we can be more authentic.' And for us at August, that's never a conversation. We show up to work and it's not a strategy to be authentic. It's just who we are." – Nadya Okamoto, Founder/CEO of August
About me: Meagan Loyst 🧚‍♀️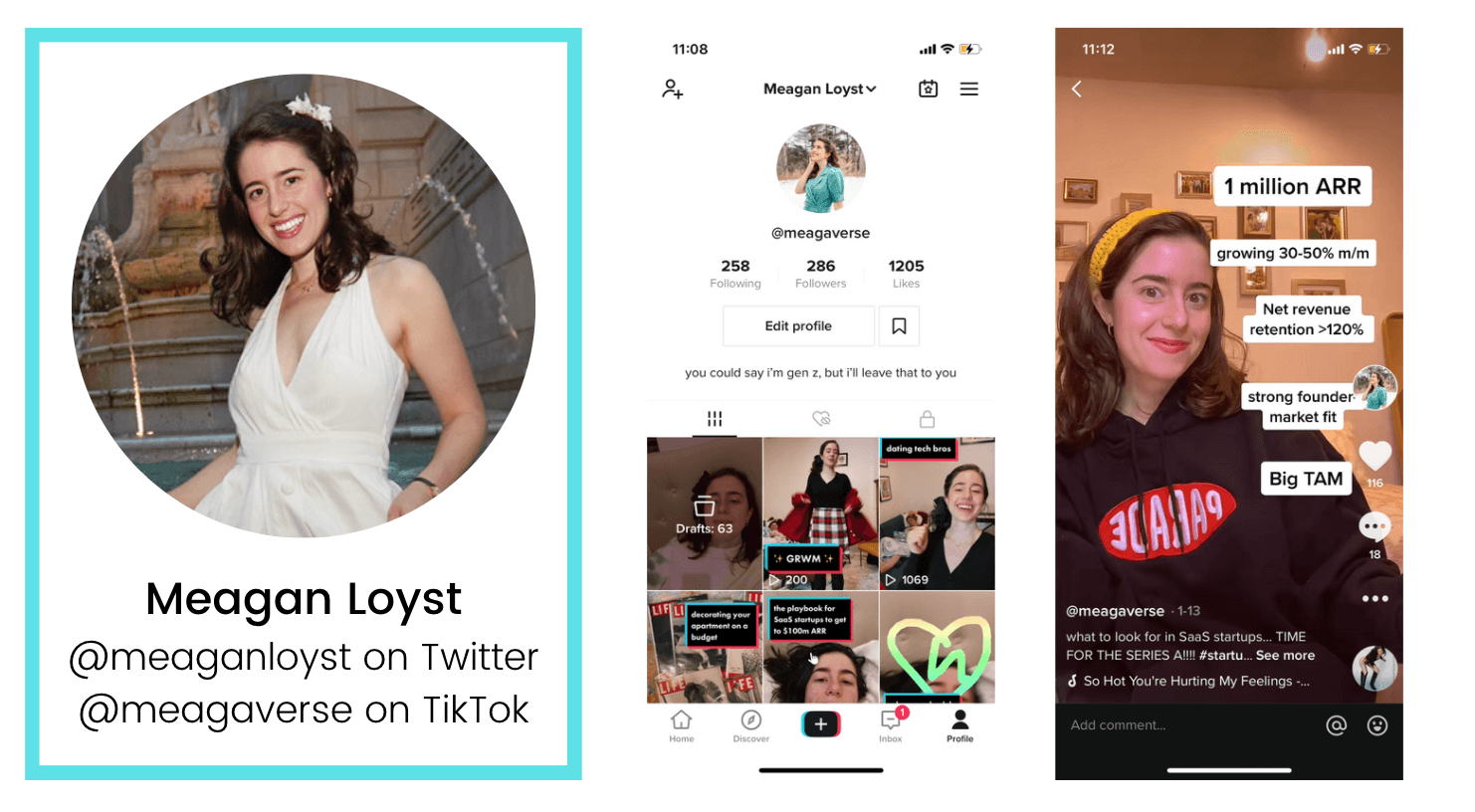 My name is Meagan Loyst, and I'm a 24 year old Gen Zer who loves all things consumer and culture. I'm a full-time investor at Lerer Hippeau (where we've invested in plenty of startups crushing it on TikTok like Parade, Cake, Drone Racing League, Air, Prose, etc.) and the Founder of Gen Z VCs, the largest & fastest growing community for young people in Tech & VC with 14,000+ members and now a Gen Z movement. I also dabble on TikTok myself as a creator. I love adding the Gen Z perspective to mainstream media and investor/founder conversations alike, which is why I love helping founders win on TikTok! I'm the ultimate consumer and spend an ungodly amount of time on TikTok, and hope to help many corporate execs, startups, and founders alike navigate the next decade on this crazy app :)
If you're a startup, founder, corporation, or creator on TikTok, I'd love to hear from you & see how I can help (especially if you're navigating how to reach Gen Z). My email is meagan@lererhippeau.com, and you can keep up with me on Twitter as well.
See you on TikTok ❤️