We're excited to launch our accessible marketplace with $250k+ in discounts from 50+ partners & comprehensive resources for the next generation of founders.
Curated by founders in the Gen Z VCs community, powered by Builtfirst.
There are 305 million new startups created in any given year – a combination of first time founders venturing into entrepreneurship, and repeat founders who are aiming to give it another go. As I think about Gen Z entrepreneurs, an incredibly entrepreneurial generation with 62% wanting to start their own business one day, many fall into that "first time founder" bucket. If you look at the stats, the oldest Gen Zers are 25 years old, so this inherently makes sense.
I'm betting that in the coming years, we'll see more Gen Z founders than any other generation… and Gen Z VCs is in a unique position to help these new founders navigate what should theoretically be easy and accessible… your startup stack.
Most founders ask their fellow founder friends what they use, or perhaps turn to their investors for recommendations… but what if you don't have founder friends just yet or investors? Or a platform on Twitter to ask questions and find answers? Maybe you're not sure where to turn. So we asked founders (your peers) for you.
To launch the Gen Z VCs community in November of 2020, I surveyed 71 Gen Z VCs all over the world to gather insights on what Gen Z investors were following – trends, favorite companies, etc. This quickly grew from an article into the largest & fastest growing community for young people in Tech & VC, with over 13,000 global members who are VCs, founders, operators, students, and more. Everything we do is community led, and this resource + marketplace is no different.
To launch this article & marketplace, I did the same thing… instead, surveying 71 Gen Z founders to unpack their startup stacks – what they love using, what they'd love access and discounts to, and what they would recommend to other founders. We're excited to launch this new marketplace with Builtfirst, as we look to democratize access to great discounts for the next generation of entrepreneurs, in partnership with some of the best startups in the world who share our mission.
We have 50+ partners featured on our marketplace, all of whom came up in my conversations with founders, which equates to an aggregate of $250k+ in discounts for each founder in our community.
Airtable. Apollo. Auth0. AWS. Brex. Canva. Carta. CircleCI. ClearCo. Clerky. ClickUp. Coda. Contra. Deel. DocSend. Drift. Embroker. Flutterflow. Google Cloud. Gusto. Hubspot. Intercom. Justworks. Loom. Mercury. Microsoft. Mixpanel. Neo.Tax. Notion. Pilot. Quickbooks. Ramp. Remote. Retool. Rho. Rippling. Salesforce. Secureframe. Segment. Settle. SVB. Slack. Snap. Stripe. Vanta. Visible. Vouch. Zendesk. Zoom. We got 'em all 😎
If you're familiar with Gartner's Cool Vendor Report they release every year, we've done the same for Gen Z VCs – instead, highlighting the tools Gen Z founders are actually using & love. Below, we'll share insights that can help you think about when & why you should be thinking about certain areas of your startup stack – ranging from corporate cards, to analytics and cloud credits, to HR & recruiting and everything in between.
We want to help you, founders, get started on Day 1 and be a place to turn to as you scale 💫
Your friend,
Meagan Loyst, Founder of Gen Z VCs
Let's walk through the journey many founders take when they start their company… going category by category to share resources, things to look out for, and highlight some companies.
Cap Table & Fundraising → Banking & Corporate Cards → HR & Recruiting → Analytics → Collab / Prod → Customer Service & CX → CRM & Sales / Marketing → Accounting & Finance → eComm & eComm Financing → Legal & Insurance → Security & Compliance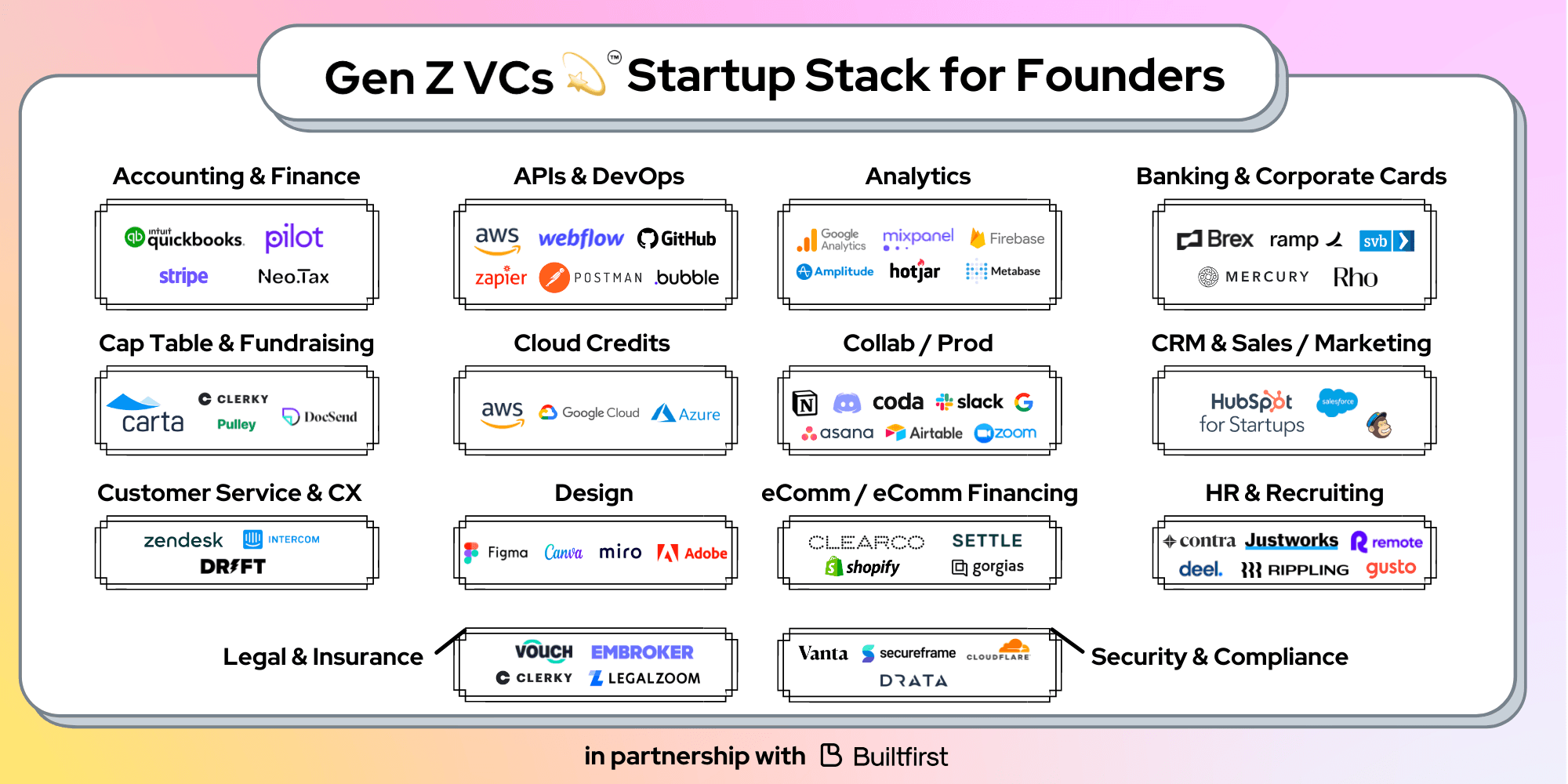 Cap Table & Fundraising
Pitching and managing your cap table
To get a startup off the ground, everyone needs the same thing: money. How you go about raising that money (your own savings, friends and family, angel investors, institutional VC funds) can vary, but especially if you're a venture-backed startup, you'll need software to (a) fundraise and (b) manage your cap table as you scale.
One other thing to note: you can raise venture money pre-product (where it's entirely a team bet paired with the market opportunity), with a working demo / MVP, or with existing revenue and traction. And raising venture money doesn't equate to success – there are plenty of awesome bootstrapped businesses (like Mailchimp bootstrapping to $700m in revenue) that made it on their own. Venture money can often be helpful if you're a founder who wants value-add resources and perspectives around the table (often key in getting from pre-seed to Series A) in addition to capital to help fuel the business (to fund hiring, inventory, etc. – and help you grow faster).
If you do decide to go the venture route, you'll need to decide if you want to raise on a SAFE or a priced round, how much equity you'd like to give up, and more – this article from Carta helps break down a few key considerations with embedded links. For example, the benefits of QSBS for founders in the context of raising a priced round.
Carta
Carta is often the first stop for founders looking to raise venture money. Their core focus is to help founders manage startup equity and get the foundation in place to start fundraising – with their Carta Cap Table product helping with things like:
Managing your cap tables
Accessing real-time fundraising benchmarks and scenario modeling so you can be prepared going into negotiations
Generating and tracking your SAFEs all in one place
Carta also helps founders understand how much they should pay their employees in salary and equity (we love a startup that can do it all 💙). Their Carta Total Comp tool helps you build your compensation strategy as you hire, giving access to real-time salary and equity benchmarks across every role, level, and region. You can:
Compare employees and candidates relative to the market with broad peer market data
Keep your compensation fair and consistent with an automated and flexible job leveling system
Create a compensation strategy that works for your whole team—wherever they are.
You can check out the marketplace for discounts on Carta's Cap Table & Total Comp tool! Here's a sneak peek 👀: 20% First Year Discount & Waived Implementation Fees!
Banking & Corporate Cards
Where to keep your money and how to spend & save along the way
Once you've raised money for your startup, be it from VCs, angel investors, or family/friends, you need somewhere to keep that $$$. And as a founder, you'll likely be growing your team too – instead of your employees keeping track of expenses in an Excel spreadsheet, it's way more effective to have a corporate card that centralizes all of this.
The tricky part in banking with traditional banks is you oftentimes have to put forth a personal guarantee or deposit, and also receive a low credit limit (because you're inherently a risky, early stage startup). This is why working with a next-gen corporate card or startup bank can save you time as a founder, limit your personal risk & help you grow your startup the way you need to… which is fast. And the reality today is you don't need separate bank accounts, credit cards, and expense management software — companies were built to literally make this easy for you. Here are some companies to put on your radar & things to think about when it comes to choosing a bank / corporate card on Day 1.
Brex
Tons of Gen Z founders gravitate to Brex, the all-in-one corporate spending solution built by founders, for founders. Brex was in the YC W17 batch and was founded by two young Gen Z founders – co-CEOs Henrique Dubugras (26), and Pedro Franceschi (25) – who actually met on Twitter (very on-brand ).
Brex makes it really easy for fast-growing startups to get credit cards, deposits, payments, and spend management all in one place. They know first-hand what it's like to grow quickly… having just raised $300m at a $12.3bn valuation after only 4 years since starting the co. From my experience, founders often appreciate working with investors who have operating experience or were former founders because they've been through it – they've been through the trenches and know the pain points first-hand, and can guide startups through the rough patches. If that same philosophy holds true in choosing a financial stack, no one knows it better than Brex… they help companies spend smarter and manage their money effortlessly from anywhere — increasing productivity and accelerating growth. There's a reason why Airbnb, Deel, Airtable, Classpass, Career Karma, and Carta all use Brex:
You can open an account in 5 minutes to start depositing cash, sending payments, and tracking spend 💸
They have built-in expense management software, which will make your life easier 😅 Receipts match automatically – just reply to a text or notification with a photo or forward an email receipt to match it to an expense.
You'll get 10-20x higher spending limits than traditional cards AND don't have to worry about personal guarantees. Plus you get cash back on everything 😏
Plus their rewards program is insane 🤯  Lots and lots of perks built for startups.

No fees on anything, just points on everything—like up to 4x on recurring software, 8x on rideshare, or 1.5x on ads.
Gen Z VCs founders will receive an exclusive perk which includes $250, $2.5k AWS Credits, $200 via Brex Cash, and access to $150k of partner discounts when they sign up at brex.com/genzvc.
It's free to send wire transfers – no fees to send unlimited checks, ACH, and wire transfers—even internationally. (cuz we know you want to take over the world, obvi 😉)
Live support in minutes – you can chat with Brex via phone or chat. And they've got a 95% customer satisfaction score to prove it 🦾
And for all my fellow degens – they've even got crypto rewards 🤑 Brex customers can use rewards points for Bitcoin (BTC) and Ethereum (ETH) the same way they redeem Brex points for miles, gift cards, cash, or travel.
You can check out the marketplace for discounts on Brex! Here's a sneak peek 👀: 25,000 points*, $2,500 AWS Credits, Brex Premium, and 20,000 points with Brex Cash. *After 1k spend.
Mercury
Manage your money with virtual and physical debit cards*, free domestic and international wires, intuitive dashboards and payment flows, team management capabilities, and API access. Set up FDIC insured checking and savings accounts with no monthly fees. 
Built to help startups scale quicker and easier, Mercury also offers treasury products to save and grow your money, use their foreign currency exchange features, find your next funding round through their Raise program, or take out a line of credit through their Venture Debt program. 
Get signed up in a few minutes and set up in a few days from anywhere in the world. No SSN or US residential address required.
You can check out the marketplace for discounts on Mercury! Here's a sneak peek 👀: As a member of the GenZVC community, your startup also gets:
Access to Mercury's perk library, a listing of offers from the startup tech stack worth over $250k
$500.00 for the organization if the organization spends $10,000.00 on their debit card within 90 days of approval
Ramp
Ramp's 5-in-1 finance automation platform replaces Amex, Expensify, Concur, Bill.com and more—for free. And who doesn't love free 😍

To get started, it'll take you <15 minutes to deploy – and companies save $100k on average, 5.4 days/month in time savings for their finance teams (closing books 86% faster), AND you'll get 1.5% cashback on everything.
They also have dedicated solutions that go beyond traditional finance functions… like business travel (Ramp for Travel) and SaaS procurement and vendor management (Ramp Procure, oh and this is free too!).
Ramp has already saved their customers $10 million+ in savings… and I remind you… they've only been around since 2019, so they move FAST. And thousands of finance leaders use Ramp, ranging from startups like ClickUp, Mode, Clubhouse, Better, Ro and Marqeta to companies like Planned Parenthood and DouglasElliman.
You can check out the marketplace for discounts on Ramp! Here's a sneak peek 👀: After successfully signing up and using the Ramp Card, we'll provide you with a $500 Amazon Gift Card! (guarantee you'll use this!!!)
Rho
Rho is on a mission to make finance frictionless for business. Their team and technology power high-performing companies with an end-to-end finance platform that seamlessly enables teams to safely conduct and manage company cash and spending across corporate cards, commercial-grade banking, AP, and more.
Here's a bit more on their product suite:
Corporate Cards earning up to 1.75% cashback
Zero-fee banking and AP
Treasury Accounts backed by up to $75mm in FDIC insurance
Dedicated account management and customer support
Collaboration-first tools are integrated into Rho's suite of products to make life easier for your team by creating alignment through access/permissioning, providing more purchasing freedom for your team, categorizing expenses in real-time, and more. If you're keen on having a collaboration-first finance team, this is a great resource to check out.
What's really special about Rho is they help companies get a higher credit limit than other providers with their Rho Card. Traditional card providers typically require years of revenue data to underwrite your business. But, when you're a start-up growing 100% quarter over quarter, last year's financials represent a mere fraction of who you are today and the end result is usually an inaccurately low credit limit.
Alternatively, linking your credit limit solely to your cash balance sets you up for a limit that fluctuates abruptly as you spend.  Rho looks beyond these common criteria to get a truly comprehensive picture of your business and offer higher and more scalable limits. Plus, no fees or personal guarantees.
Take Caraway for instance… you probably know them for their beautiful non-stick pots and pans. They were growing like crazy and surpassing their credit limits with their existing bank. Rho not only automated Caraway's finances and boosted their credit limit by 300%, but their collaborative platform is consistently saving their team 10+ hours per month. Now that's ROI.
You can check out the marketplace for discounts on Rho! Here's a sneak peek 👀: Receive $500 in credit when you spend $10K on your Rho Card
Silicon Valley Bank (SVB)
There's a reason roughly 50% of all venture-backed companies in the U.S. and many VC firms bank with SVB 😍And what's amazing is they can be your day one banking partner, but then also stay with you through IPO and beyond (55% of US venture-backed tech and healthcare companies with IPOs in 2021 are SVB clients).
They have a commercial bank, investment bank, private bank & wealth management division, and offer venture and credit solutions as well – I mean… what can't they do 🥰
Their Startup Banking offering is a unique pairing of both product & advisory, which I've seen in action first-hand through working with their team on tailored programming for founders around pitch reviews, making investor intros, the whole works. They're insanely well-connected and the team is comprised of best-in-class ex-VCs, founders, and operators (great people all around who I'm lucky to call friends). SVB also hosts 50+ advisory events and roundtables a year geared specifically towards founders, and could be anything from helping with fundraising to go-to-market strategy.
SVB serves entrepreneurs like you from Day 1 until you IPO, and they've got great discounts too: 3 years of free banking, 50+ rewards and discounts to reduce burn ASAP, a money market account currently yielding a competitive rate of up to 1% to put those funds to good use (highest in the industry) and a card with 2x rewards.
You can check out the marketplace to work with SVB! To set up a bank account or learn more about ways to work with SVB, feel free to reach out to Bo Ren bren@svb.com and Andrew Oddo aoddo@svb.com from their early stage practice team – they're the BEST.
HR & Recruiting
Hiring and scaling your team
Alrighty so now you've got money in the bank… time to go hire a team to help you build your product and scale 🚀
Founders spend a ton of time hiring and interviewing post-financing, which is why talent/platform functions at VC firms can be so helpful… think hiring engineers, a Head of Growth, Community Lead, etc.. There's nothing more valuable than your team, and generally at the pre-seed/seed/Series A stage, talent/hiring is a sizeable portion of the use of funds from your raise.
We're experiencing a competitive job market today, which means you'll want to think carefully about equity/comp and what's "market" today. Carta can help with benchmarking compensation (few other resources in this thread), and then here's a thread I pulled together on equity ranges to give to early employees (say if you have a 10% option pool after raising your seed). You'll also want to think about benefits & how you're creating a great environment for employees… having a ping pong table & free food at the office doesn't quite cut it these days.
It's often easy to bundle things like HR, payroll, benefits, and compliance under one roof by working with a PEO (Professional Employer Organization), which basically helps get you access to big-company benefits even if you're a 2-person startup – think things like health insurance, 401(k), Citi Bike memberships, and beyond. PEOs can be great for hiring domestic employees within the U.S.
And 74% of companies are planning for a permanent shift to some degree of remote work… if you want to hire an amazing engineer in Romania or your first sales person in the UK, you should be able to do it and not worry about international tax and labor laws for each country. Global payroll and compliance providers can help with this vs. setting up a new legal entity (which can cost upwards of $100k) for each new country you hire in. Here are some helpful tips for hiring remotely from Remote (the name is quite fitting 😍) and how to manage remote employees effectively. These cover things you should know as you're scaling your team, like the difference between a PEO and an EOR.
And maybe instead of dedicating full-time resources towards a certain project or you're a bit more budget-constrained, it may make sense to hire a freelancer instead across disciplines like design, engineering, product, writing, content marketing, or social media. And when you think about the future of work thematically, many younger employees especially value flexibility and freedom – we're likely to see more experts leveraged as freelancers and creators in the coming decade.
Justworks
Justworks helps you get access to big-company benefits, automated payroll, HR tools, and compliance support — all in one place. Their core focus is helping small businesses and startups like yours (any with as little as 2 employees), which is why 8,000+ companies use them.
Justworks has helped small companies with 16 employees like Little Cinema scale their in-person hiring in new states, but also larger companies like Kinsta with 250+ employees to create a positive onboarding & benefits experience for their remote U.S. employees. So it's helpful to know that you can easily scale up with them as your hiring needs change!
The Justworks product suite has 5 key pillars to help startups scale:
Payroll: Reliable, easy-to-use payroll and effortless integrations, so you can pay full-time and part-time employees, contractors and vendors & handle bonuses, commissions, and expense reimbursements.
Benefits: Access to medical / dental / vision insurance, 401(k) retirement, Life insurance, HSAs & FSAs, Pre-tax commuter benefits, Fitness memberships, etc.
HR Tools: Company calendar / directory / org chart, paid time off tracking, online employee onboarding, document center & e-signature features to manage your essential employment docs, pre-built reports to track key business metrics, etc.
Compliance: Payroll taxes (940/941s), tax forms (W 2s & 1099s), workers compensation, multi-state employee management, unemployment insurance management, harassment prevention & inclusion Trainings, disability insurance, etc.
Support: 24/7 support from dedicated experts for you and your team, and even access to certified HR Consultants.
Also the challenges you face in hiring from 2, to 10, to 50, 100+ may differ as you scale. I personally enjoyed reading the CEO/Founder of Justworks perspective on how he scaled Justworks and considerations / advice to consider.
You can check out the marketplace for discounts on Justworks! Here's a sneak peek 👀: Get 1 Month Free!
Remote
Remote is an employer of record (EOR) that handles international payroll, benefits, taxes, and compliance for businesses. Basically, they make it easy for any startup to hire international employees (or contractors) in countries where you don't have a legal entity, thus removing additional pressure on already-stretched HR teams. So whether you're a founder looking to employ your first Developer in Costa Rica, or you're a growing team looking to expand sales into Germany... this can save you a lot of time and money (see below).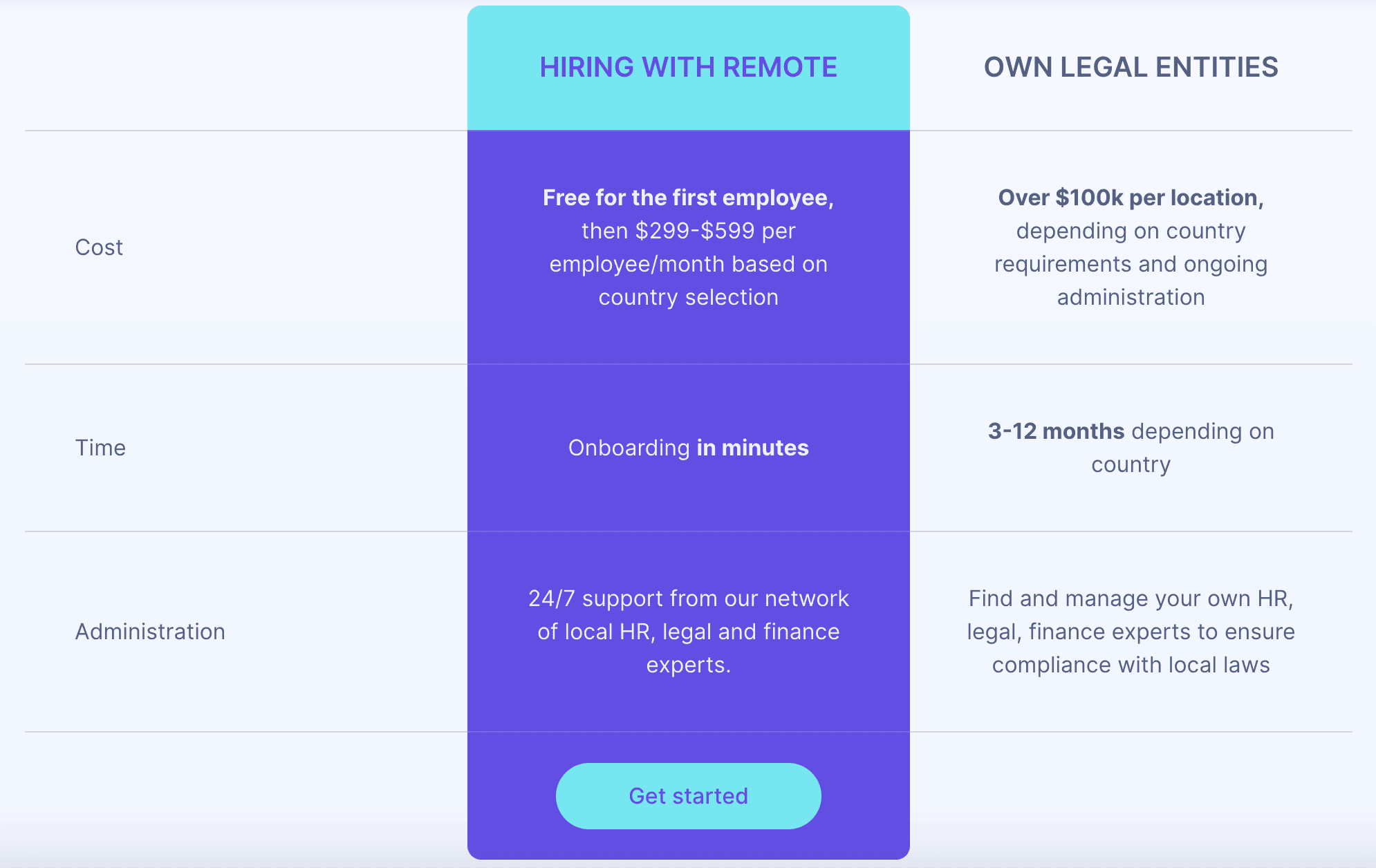 They also make it easy so you don't have to worry about the little things, like onboarding employees through their self-serve platform, making sure employees are being paid in their local currency, approving payroll and expenses, offering best-in-class benefits for every country, etc.
You can check out the marketplace for discounts on Remote! Here's a sneak peek 👀: founders in the Gen Z VCs community will get:
12 months free Employer of Record services for first employee onboarded
20% OFF for each subsequent full time hire onboarded in that first year (on an annualized basis)
Free contractor payment management
Free 30-minute consultation on global hiring
Contra
If you're looking to hire a skilled independent, look no further than Contra. Because they're built by independents for independents, they have an incredible professional community that retains some of the best freelancers in the world. Contra is backed by an active online community of 8000+ independents, and a strong bootcamp program that supports the next generation of independent workers. Using a platform like Contra will make your life easier as a founder because everything is handled in one place – sourcing talent, scoping projects, contracting, and seamless payment options are all handled within the platform. Plus, it's all commission-free, so 100% of the money you're paying will go directly to the freelancer/creator you're working with.
What makes Contra different from other independent hiring platforms today is the level of curation and service you receive as a founder. Time is your number one resource and should be spent growing your business. The average founder looking for talent on Contra gets a curated batch of applicants within 48 hours and is supported by a small but mighty team of community recruiters to help ensure you find the best fit for your needs. Maybe you're looking to jumpstart your startup's TikTok account or get some help with your social media / branding… a Gen Z creator on Contra would be the perfect solution for you Check out what other founders have said about their experience using Contra here!
You can check out the marketplace for discounts on Contra! Here's a sneak peek 👀: For our Gen Z VCs friends, there is no charge to use Contra + $150 in hiring credits towards your first freelance hire made on Contra!
Analytics
Helping you find product market fit and scale with your users
Once you have a working product and potentially investors, everyone is going to focus on growth – KPIs, metrics, what's working vs. what's not – and finding product-market fit. And you can't understand this granularity if you don't have product analytics. The reality? It's never too early to add product analytics to your app – I personally loved this article from Mixpanel outlining why this is the case. Here are two relevant examples for early stage co's:
You have a small team & your app is in beta: If you're getting complaints from your beta users in the early days on a certain feature, you might be tempted to scrap it or refocus your small team's energy to different areas of the product. Or maybe instead, your team will sift through hours of user interviews and tons of manual forensics to find the issue and fix the problem. But if you have product analytics, your team can get to the root cause faster & get back to building towards a fix.
Your app is blowing up with downloads: In today's world where a user-generated TikTok video could blow up your app at any moment, the influx of thousands of downloads can be really appealing. But what if those users don't stay and the app isn't ready or built for retention, or you don't understand why users stay vs. why they churn? Product analytics help with this immensely. Your small team can see where users are clicking and how often, which leads to a more holistic understanding of whether those downloads translate to meaningful usage — which is what investors care about at the end of the day… who stays, and people loving/using the product. It's not just about top-line growth.
With analytics, many tools start freemium, which gives you the opportunity to test things out and scale with your customers as you expand your internal team. In case product analytics is new to you, here's an entire guide to walk you through the basics.
Analytics is also a broad term, with product analytics being different from marketing analytics. The reality is that you might in fact need both – this article dives deep into the difference between using Google Analytics/Firebase and a product analytics solution like Mixpanel. The former is helpful for marketing teams looking to optimize traffic streams and understand ​​first-touch attribution (where users are coming from), whereas product analytics is naturally more focused on helping product teams succeed (providing insights into how users are actually using websites and applications).
The last thing I'll mention here is around product-market fit – analytics can help you get there by defining the right KPIs and iterating around those insights. This article outlines thoughts from 14 investors on finding product-market fit, including Lenny Rachitsky's definition matrix (pictured below) which optimizes for retention, growth, and profitability. Identifying the right KPIs (both summary and growth KPIs) can be important in getting to the center of this matrix.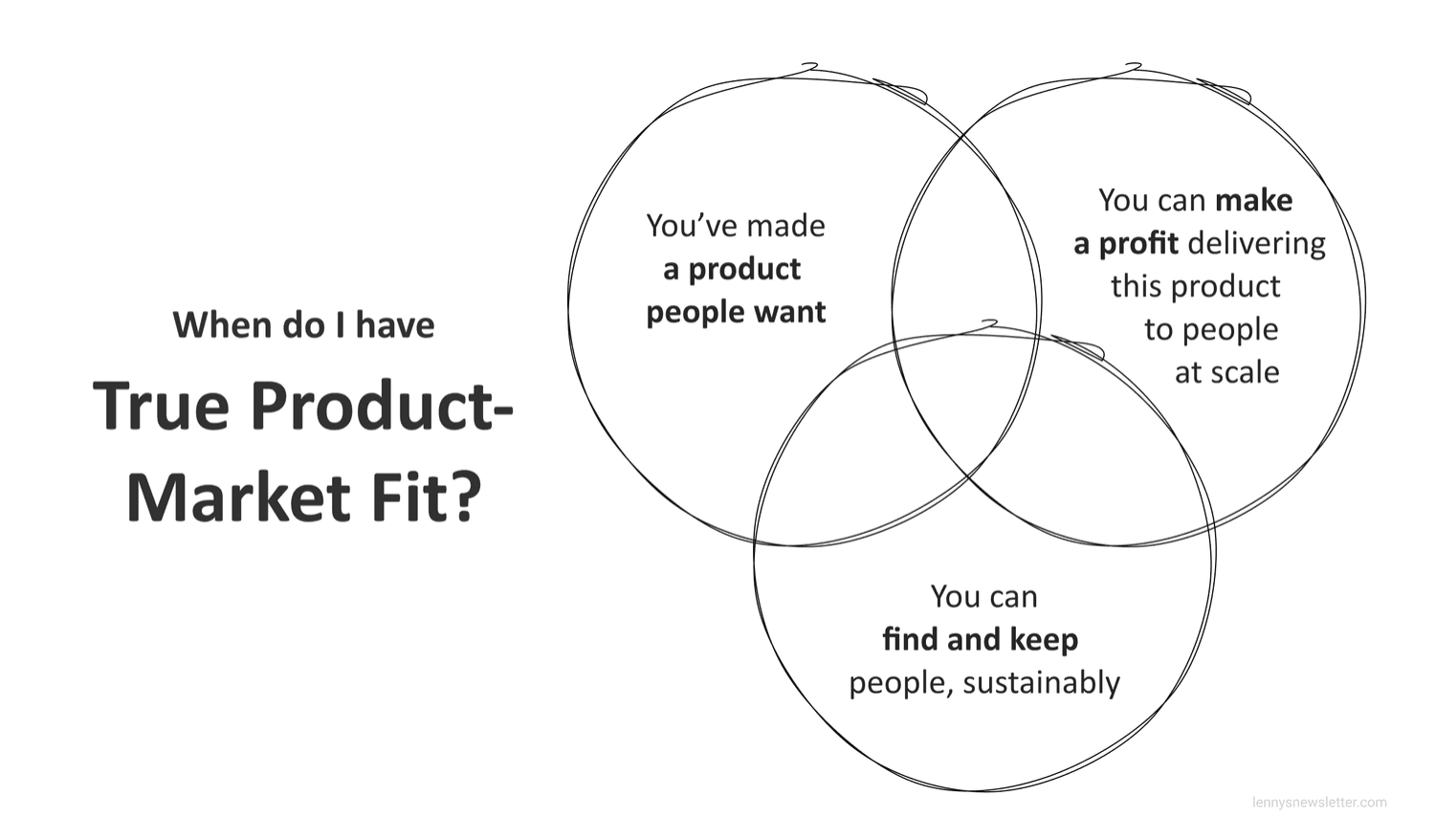 Mixpanel
Mixpanel has a classic origin story – 20 year old Suhail Doshi was a college student at the University of Arizona when he started interning at an early-stage startup. He realized a huge pain point during his internship around collecting and analyzing product data – big companies had the resources to do this, but it was out of reach for most startups in 2009. Doshi then started building Mixpanel, joined YC (S09), and was off to the races.
Mixpanel helps you as a founder & your team understand what you can do with your data – their intro video even has 2 million+ views on YouTube. Their self-serve product analytics help you:
Understand who your users are
Group users by:

Geo
Platform
Power Users
App Version
Attribution
Subscription

Insights: Analyze product usage in detail

Share insights with the click of a button via Slack integrations

Funnels: Know who converts and why
Retention: See which users retain best
Another reality we're facing in today's startup environment is how the modern data stack is evolving & how you're collecting, storing, and managing your data as a growing startup. We're living in a world where companies can innovate faster by utilizing best-in-breed tools, and therefore real-time information and integrations across the stack are incredibly important. Mixpanel has 90+ partners and is embracing an open ecosystem approach (see below) that enables this.
And don't just take it from me… Mixpanel has over 6,000 paying customers. And they're companies you'll all recognize that have grown to scale with a stellar product and insights to help drive growth – companies like Netflix, Uber, Yelp, H&M, DocuSign, Pinterest, Zero, Vrbo, Noom, Talkspace, Sweetgreen, Monday.com, Lemonade, and more. Here are some helpful case studies as well that show how customers are using Mixpanel.
They're also incredibly Gen Z friendly & want to support the next generation of category-defining startups. Their robust startup program is best-in-class for product analytics, designed to give early-stage startups more runway for growth and equip them with the tools needed to find product-market fit. Plus, they're offering Gen Z VCs founders $50,000 in credits to use on the Mixpanel Growth Plan over 12 months 😍And these credits can be used for a bunch of things, like analyzing data on 100K monthly tracked users (MTUs) and 100M events per month or purchase add-ons such as Group Analytics and Data Pipelines. You'll also be invited to attend exclusive quarterly webinars related to product analytics.
You can check out the marketplace for discounts on Mixpanel! Here's a sneak peek 👀: $50,000 in credits (!!!) for 12 months
Collab / Prod
Get organized and work collaboratively as a team in real-time
As you scale your product & your team (especially in a remote-first world), collaboration is key. More employees leads to higher flow of information, often siloed teams working towards a common goal, and software for different use cases that help individuals and teams work together effectively.
The good thing is there are all-in-one tools that help with this where you no longer just need to live in Google Docs & Excel Spreadsheets, and can collaborate in real-time with custom workflows.
Coda
Traditional documents weren't built for today's collaborative world… why not make a doc as powerful as an app instead? Coda is an all-in-one document that blends the flexibility of documents, the power of spreadsheets, and the utility of applications into a single new canvas.
With tables that talk to each other, there's no need to update multiple spreadsheets, or wonder if you're looking at stale data (thank goddddd). You not only have a single source of truth for you and your team, but Coda has building blocks to connect with the other apps you use everyday, so you can put tasks on autopilot and keep teams in sync. Here are a few features I love in particular:
Real-time collaborative editor, emojis and markdown, offline mode, rich comments, and frictionless sharing
Infinite pages and collapsible content, to organize your space
Embed your design boards, presentations, pdfs, and digital whiteboards
Bring all your meeting notes, status updates, briefs, and assets in one place
And there's a lot you can build with Coda – their team has created pre-built customizable templates that anyone can leverage. Here are a few examples from customers you'll recognize:
You can easily integrate with tools you love like Slack, Jira, and Figma, with the ability to pull in data and push out updates out automatically. Coda also integrates with Zapier and gives you the ability to build your own Packs.
**
You can check out the marketplace for discounts on Coda!** Here's a sneak peek 👀: Via Gen Z VCs, you'll get:
$1000 in Coda credit applied to any paid plan (lasts startups 1.6 years on average!),
Exclusive Coda templates, docs, and packs made specifically to supercharge startups
Access to exclusive support and Discord community dedicated to startups using Coda
Enter 'GenZ VCs' for the 'Program Involvement' question and share a screenshot from the Slack group to prove you're in our community :)
Customer Service & CX
Meeting and exceeding customer expectations
In today's world, just responding to inbound customer inquiries or issues isn't enough. Building a great brand is tied to having an exceptional customer experience – meeting customers where they are, personalized engagement, and more.
I'll give you a great personal example on why Olipop is one of my favorite brands. On January 12th, I tweeted about how much I love Olipop (specifically the Strawberry Vanilla flavor). This led to a chain of friends commenting (a) they also love Olipop or (b) even posting screenshots of their receipts saying they were excited to try it for the first time. Eli Weiss is the Director of CX & Retention at Olipop and saw my tweet and responded the following morning "have u tried the grape yet????" (their newest flavor)... and then <7 hours later, I had an entire case of Grape Olipop at my door. I then created a bunch of TikToks talking about the grape flavor, tweeted about it more, and generated even more organic content and conversation for the brand. Olipop is a brand that gets customer service, and more importantly, that exceptional customer experience can expand LTV and brand loyalty in a way that traditional marketing can't. This extends into enterprise companies as well and really any company that's looking to build brand loyalty.
The pandemic also made customer experience more difficult for brands to maintain – dealing with a growing customer expectation gap, the "Great Resignation" in retaining team members, and dealing with increasingly disconnected tech stacks. I found this report from Intercom helpful in breaking down the Top 5 Trends transforming customer support and how to capitalize on them, which dives into the pain points I mentioned above and more in detail.
To implement empathy at scale within your startup, often technology can help with anything from customer engagement to lead generation… you need to do more than just name your chatbot Clarissa or Nate. Your tech should help bring customer context to the forefront for your reps, enable fast and accurate resolution of problems (even being proactive in some senses), help you assign certain tasks to reps vs. your chatbots, and more. This article walks through some use cases on when to use a chatbot (and why) vs. a rep on your team.
In sum, automating support doesn't mean making it less personal.
Intercom
If you're looking for an all-in-one customer platform, Intercom luckily does it all. Here's a quick overview of their tech stack & what you can do with their product:
Engage visitors on your site or app automatically
Create product tours to onboard new customers
Promote new features through targeted messages
Get regular feedback from your customers
Personalize your customer support
Connect to Intercom's 300+ apps and integrations

Think Shopify, WhatsApp, Slack, Stripe, Segment, Jira, Salesforce, Hubspot, Zendesk and more…
The integrations piece is quite important. For example, if your live chat tool doesn't integrate with your CRM and requires four different people to move leads from one system to another… you've got a problem. That's why Intercom's app store is sick – you can turn website visitors into quality leads (via Intercom x Clearbit), qualify leads before sending them on to sales (Intercom x MadKudu), automatically route leads to the right people and provide visibility (Intercom x Chili Piper or Troops), and even enable reps to engage at the best possible time (chatting live via Slack or scheduling demos with Calendly). These are just a few examples, but highlight the importance of having a connected toolset.
And luckily, Intercom is no-code and easy to set up in 15 minutes or less, so you can have a live chat and custom bot in your website or app pretty much instantly. Plus you'll get your first 12 months free & 50% off your second year via Gen Z VCs & the Intercom for Startups Program 🤝
And again, all of this ties back to creating incredible experiences for your customers, and is a pivotal reason why 5,000+ startups use Intercom (including 84% of new YC companies).
Frame.io uses Intercom to provide personalized support to their 2M customers
Spendesk decreased their first-response time by 80% in six months.
Qonto achieves 95% CSAT while growing its customer base
You can check out the marketplace for discounts on Intercom! Here's a sneak peek 👀: Get 100% off in the first year, 50% off in the second year, and an ongoing discount of 20%.
CRM & Sales/Marketing
Jumpstart your growth trajectory
You may have heard of the MarTech 5000 – aka the 5,000+ startups that make up the marketing technology stack alone. Since 2020, there have been 2,000 more startups added to that map (so make it 7,000). Put simply, there's a lot of noise to cut through.
Here's an easy way to categorize these different functions:
Marketing: generate qualified leads
Sales: turn leads into customers
Service: turn customers into promoters
Operations: make your systems work better together
In my experience, sales and marketing tie back to growth and are intimately intertwined… but luckily you don't have to start from square one. There are great templates for you and your team that can get you started – everything from email marketing, building your social media content calendar or PR and branding kit, and even sales guides to reference.
After you raise your seed round (if you decide to go the venture route), hiring a Head of Growth is a very typical 1st stop – I see this with a number of my portfolio companies. From experience, scaling your team and hiring the right people is always going to be a good investment in the very early stages vs. pouring money in Instagram & Facebook ads. The latter and clever sales/marketing tactics are certainly important as you scale and figuring out the right channels, but never underestimate the power of your team 😎
I'll give a quick shoutout to a team who's doing a really great job in my mind of reaching their target audience & being SUPER creative in their sales/marketing… check out Party Round for inspiration. Spray painting their logo around Soho and giving out rewards, featuring hundreds of fellow startup logos on a billboard, games like Burn the Runway & drops like "helpful VC" NFTs – all built and primed for virality and community building.
Growth is something that will (hopefully) never go away as you scale, so getting your stack set up early will help you keep track of your leads (CRM), increase your top of funnel, and accelerate your sales function to bring on more customers.
Hubspot
Think of the CRM as your central nervous system between your sales and marketing teams, and no one does this better than Hubspot for Startups (which is why 121,000+ businesses work with them). Their all-in-one CRM platform can do a lot:
Unify your marketing, sales, and service databases: holding everything from contact management & company records to overall forms
Organize & track customer communications: you'll have access to a reporting dashboard, live chat, deals, conversations inbox, team email, tasks, ticketing, etc.
And you'll get access to a CMS Hub, Marketing Hub, Sales Hub, Service Hub, and Operations Hub. Preview on two below 👀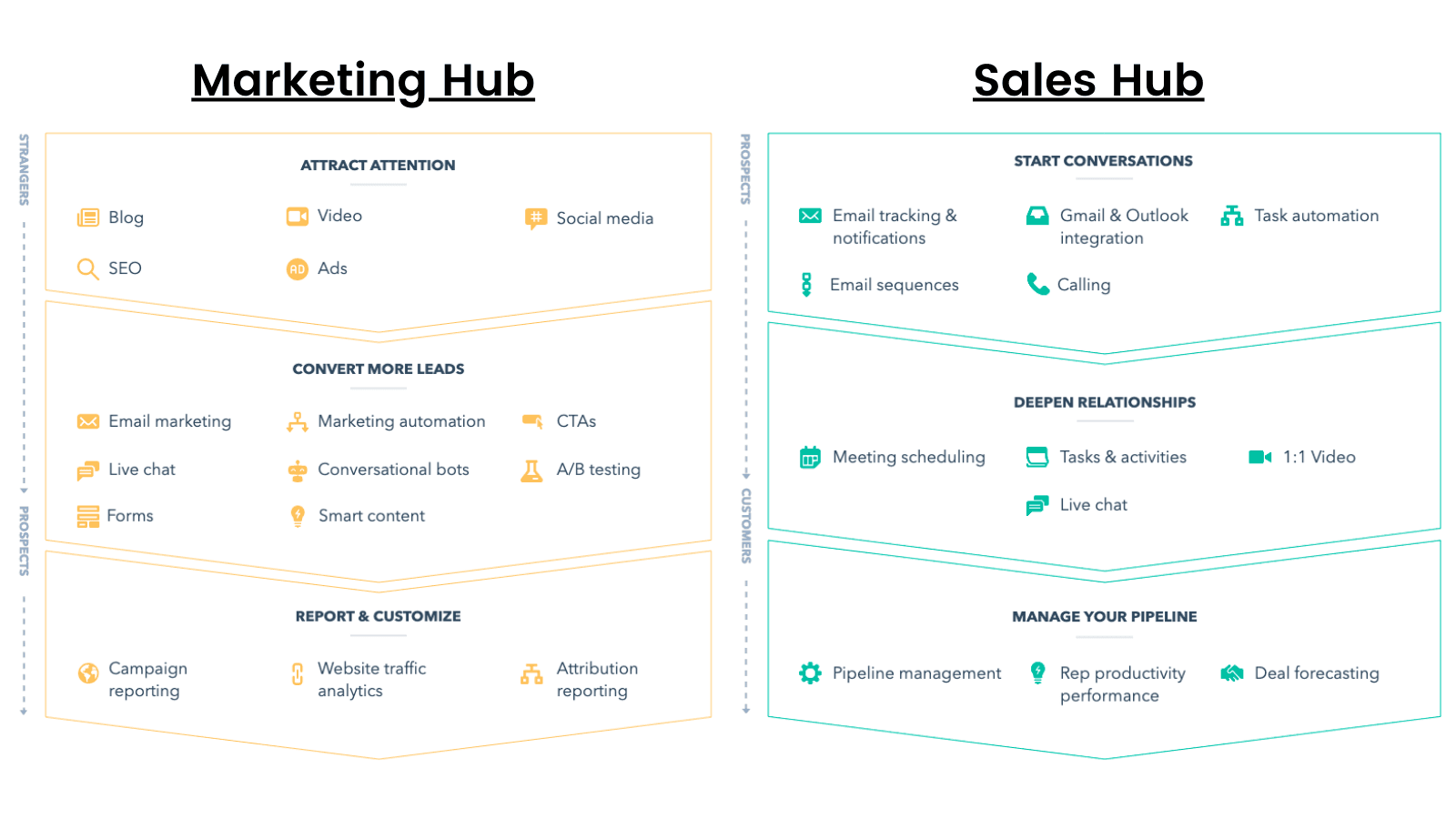 And you'll not only get access to great software, but also education, programming, 500+ integrations, and 24/7 support. It'll be your single source of truth across your org… which is crucial as you're scaling from 5 to 50 team members and beyond!
You can check out the marketplace for discounts on Hubspot! Here's a sneak peek 👀: up to 90% off HubSpot software in your first year!
Accounting & Finance
Manage your money & taxes proactively
The ins-and-outs of startup life is almost always tied back to one thing… runway. How long do I have to continue to grow my startup and keep the lights on? To hire more people on my team? To purchase new software that will help us grow faster? Having a buttoned up accounting & financing function is key – whether you choose to outsource this early or support your existing team with tech to get the job done.
Most pre-seed to Series A (even Series B) companies don't have a back office finance team and instead choose to outsource the accounting & finance function early – this is because founders tend to allocate venture funding to scale product, engineering, and HR talent first. Caroline Moon who leads a16z's financial operations practice has a great article/webinar that talks through the trade-offs/impact of outsourcing vs. not. Regardless, you want to set up the right finance foundation as early as possible, otherwise it can be more painful and expensive to do later (ie: time-consuming and expensive to fix historicals and build the right systems, processes, team).
Thinking about how to extend your runway is also incredibly important, and this doesn't have to mean budget cuts or thinning out your team if you're pivoting… you can be proactive. Things like R&D tax credits can help you extend your runway by continuing to do the things you're already doing as a startup… a.k.a. investing in innovation. And pro-tip, you can receive up to a maximum credit of $250,000 each year up to five years (so saving up to $1.25 million 👀👀👀). This article from Neo.Tax dives into the specifics, and I'll outline the qualifications below that make you eligible.
We want to help you get money in the bank ($$$) and grow your startup… knowing what's up with your finances & how to get free money is key.
Pilot
Instead of worrying about hiring a finance team, you could look to a tech-enabled service like Pilot to handle your startup's finance, accounting, and tax prep needs. Pilot is the largest startup accounting / bookkeeping provider in the US, having helped thousands of businesses grow from pre-seed to Series D and beyond.
They have a full-time team of US-based finance experts that provide strategic and operational finance and accounting support… and they're able to integrate into the tools you're already using today. Think of Pilot as as an extension of your team, as your dedicated Pilot team will have expertise in your industry, size, and stage. There's a reason why Lattice, OpenAI, DevColor and 1,500+ other startups work with them. Their blog also provides helpful resources, like key upcoming tax deadlines for startups, how to calculate COGS, understanding cash-basis accounting vs. accrual basis accounting, and even survey data on founder compensation.
You can check out the marketplace for discounts on Pilot! Here's a sneak peek 👀: Gen Z VCs members will get an awesome discount (20% off the first 6 months of Pilot Core or Select). To redeem, you can sign up via the marketplace or e-mail Greg Rivers directly - gregrivers@pilot.com - with any questions.
Neo.Tax
The modern day tax code is purposely obscured, constantly changing, and R&D credits have only been available to startups since 2016… so it's totally fine if you haven't heard of the R&D tax credit before. Startups like Neo.Tax make it (a) easy to understand and (b) easy to get that $$$. Their automated preparation system can complete the process for you in less than 30 minutes.
Here are the qualifications that make you eligible for this tax credit:
You are working to eliminate a technical uncertainty.
You are experimenting via modeling, trial-and-error, simulation or other methods.
The experimentation process relies on a hard science.
The goal of this process is to create a new or improved product or system.
Importantly, in order to use the R&D Credit towards your payroll rather than your income, you must also fit these 3 criteria:
Made less than $5 million in revenue last year.
Less than 5 years since first revenue.
Employees (and contractors) working on R&D are in the U.S.
If you're a startup with less than five years of earning revenue or interest income, have less than $5 million in annual revenue, and have US employees, you can get up to 10% cashback on engineer, product, and design payroll, including contractors, up to $250,000 per year. That's epic & can be incredibly meaningful in extending your runway. Tax season used to suck, but now it doesn't have to (b/c free moneyyyyy) 🤑🤑🤑
You can check out the marketplace for discounts on Neo.Tax! Here's a sneak peek 👀: If you sign up through the marketplace as a member of Gen Z VCs, you'll save 25% off the tax credit preparation fees (!!!!) through April 18, 2022.
Also huge bonus, if you're a Mercury customer and looking for financing options, Neo.Tax just launched a partnership to make their suite available within the Mercury Capital platform.
eComm / eComm Financing
Scale your eComm brand with easy $$$
Whether you're an eCommerce or D2C startup getting off the ground, or a tech startup looking to launch merch – you've probably heard of Shopify. They have a $104bn market cap & are helping newer founders & startups all the way up to larger companies like Allbirds, Staples, Gymshark, Heinz, and more. If eComm isn't a core part of your strategy and you're looking to add it to your offerings, it may be easier to tack it onto your website. For example, Gen Z VCs' website is built on Squarespace, which has a native integration with Printful, so it was easier for me to launch our merch directly on our website vs. create a new Shopify store.
A harder question for most eComm founders is not where to launch their store, but how to get their products in front of customers (and pay for inventory so they have enough product to sell). Getting cash for inventory or ad spend should never be an issue, as non-dilutive / revenue-based financing are all the rage these days 🤑 You're able to get a cash advance against your future sales while still maintaining 100% ownership and control of your startup (vs. raising venture money and giving up valuable equity as an alternative).
And even though the industry has changed, payments, invoices, and collections are still handled primarily over email for eComm founders (flooding their inboxes) and making it more difficult to track the important things: approval requirements, invoice formatting, payment methods, payment timing and status, reminders, etc. Managing your accounts payable is way easier leveraging tech.
Clearco
The world's largest eCommerce investor isn't a VC firm at all… it's Clearco. It provides non-dilutive, revenue-based financing to eComm startups to assist with marketing/ad spend and inventory. It's distributed  $3.2bn to over 7,000 founders since 2015… and your eComm startup can certainly get funded next 😍
Take Elizabeth Volk for example… a fellow Gen Z VCs founder who launched eComm businesses that made fitness equipment and quality masks accessible when gyms shut down and PPE was harder to find than paper towels. As she gained traction, Elizabeth turned to Clearco inventory capital to launch new products and Gen Z VCs' Summit to get curated perks and resources. 🚀 After experiencing the benefits of Clearco, she joined the team and is helping other founders scale efficiently without giving up equity.
All Gen Z VCs founders that connect to Clearco's platform will receive a $1,000 credit towards your first Clearco Capital Advance and free access to data, insights, and a benchmarking tool, which has data from over 35k eComm companies – so it's incredibly useful! It's also really easy to get started:
Connect your apps: Clearco connects with the tools you're already using to measure key growth metrics like monthly revenue and ad performance and tracks them against industry benchmarks to let you know where you stand.
Get your offer in 24 hours: Select from tailor-made funding offers, ranging from $10k to $20m. Get an offer in 24 hours.
Repay on your terms: Clearco's unique revenue share model means you only pay them when you earn revenue. You get to choose what % of your daily sales you share with Clearco.
Instantly top up: Fuel and sustain growth with a steady stream of capital at your disposal.
And when you think about the benefits of using Clearco, there are also no hidden fees or APR, just a 4-6% fixed fee on marketing and inventory advances. Founders enjoy flexible repayment terms and don't have to put up a personal guarantee or collateral to receive funding (unlike for debt financing).
There's a reason why startups like Haus, Andie Swim, GLAMNETIC, and thousands of others work with Clearco. They're dedicated and reliable partners that put founders first – like GLAMNETIC, which took 10 rounds of Clearco funding. Clearco helped this hyper-growth beauty startup scale from $1m in revenue within its first 6 months to over $50m in revenue in its second year. You can read more case studies that showcase how other eComm startups have scaled with Clearco and learn how Clearco can help you!
You can check out the marketplace for discounts on Clearco! Here's a sneak peek 👀: Get $1,000 off the fee on your first Clearco marketing or inventory advance.
Settle
Settle is helping the world's most innovative eComm companies scale faster and more efficiently with all-in-one cashflow management – they count companies like Italic, Branch, Better Booch, Lalo, Jambys and more as customers. And they're helping to solve the very real pain-point of moving invoices / accounts payable to a true SaaS bill pay platform (and simultaneously offer invoice financing). No more managing countless threads in your inbox – instead, you can upload invoices within Settle, and make payments to vendors/stakeholders across your supply chain… all in one place. They really can do it all folks 😍
You can be up and running on Settle in just a few minutes after a quick consultation, and their pricing is super transparent (no per-seat costs, no per-transaction costs for paid users, free to start with up to 10 ACH payables/month & then tiered pricing thereafter based on your transactions/month).
Eligible brands are able to finance payables in just a few clicks. In simpler terms: Settle will pay your vendors upfront for large purchases—say, inventory—and you pay them back in 30-120 days for a small monthly fee. This means you'll have more cash in your pocket for things like marketing, payroll, and office rent before you can start selling that inventory to your customers.
You can check out the marketplace for discounts on Settle! Here's a sneak peek 👀: Free to set up and make up to 10 ACH payments/month
Legal & Insurance
Keep up with the law & make sure your business & stakeholders are safe
Many companies think of things like legal and insurance as an afterthought… but what can you do on Day 1 to protect your company, investors, board, property, and customers? Get business insurance. Trust me, lawsuits suckkkkk and this is a great way to make sure you're setting your startup up for success. In fact, many investors won't even sign your check if you don't have D&O Insurance in place. There's just a ton of things you don't even think about (because it's always hard to imagine the downside scenarios when you're SO pumped for the future). For example, if a customer believes that a bug in your software caused them to lose money, they can sue you for damages – you'll want to have Errors and Omissions (E&O) and Cyber Insurance in place. And on top of that, you can even look at the statistics – nearly 70% of small to medium business owners thought a cyberattack would cost them less than $25,000, when in reality, it's closer to $149,000.
And when we surveyed 70+ Gen Z founders in our community on what they needed help with / tools they wanted, startup legal assistance was #2 on the list and a very clear pain point. When you're running around closing a fundraise or operating on a day-to-day basis, the last thing you want to think about is the nitty gritty details of legal docs.
Legal help is necessary at pretty much every stage of your journey as a founder – company formation (incorporation), fundraising (board consents, Safes and convertible notes), hiring (offer letters, advisor agreements), commercial agreements (mutual NDAs), and maintenance (increase amount of authorized shares). Legal help is something that needs to be done the right way and quality is of the utmost importance – you're better off starting on Day 1 with partners who know incorporation (ie: like Clerky, who only support Delaware C corporations / startups) and can scale services with you. It's nearly impossible for a non-lawyer to know how good a lawyer or online service is, but resources like this can help point you in the direction and identify the right questions to ask.
Vouch
Vouch offers business insurance for the world's top startups – they've got more than 2,500 clients (including Pipe, Middesk, Neighbor and Routable) and are also the vendor of choice for co's like Silicon Valley Bank, Brex, Carta, WeWork, and even Y Combinator. They currently protect over $5.7 billion in risk across thousands of policies, so odds are, they've got you covered
Their average customer can get a quote and bind their coverage online in under 10 minutes, without any phone calls or paperwork, so it's easy-peasy too. This article helps outline when companies should think about getting business insurance (and what types), ranging from closing a round, hiring employees, and even signing your first lease.
You can check out the marketplace for discounts on Vouch! Here's a sneak peek 👀: Apply now to save an extra 5% on your first policy and up to $2,500 as you scale.
Clerky
Thousands of startups turn to Clerky to get their legal paperwork done safely – and they only focus on startups (Delaware C Corps), so you can trust they know your business and the paperwork required to get you started.
I mentioned this above, but working with teams that will do high quality legal work is key – the founders of Clerky were previously startup attorneys at Orrick, and they started the company to solve the pain points they were seeing first-hand. Many founders were using poor quality lawyers and online services, and ended up having to pay them a bunch of money to fix everything afterwards. Like most things in life, it's best to do things right the first time… but knowing where to start (ie: Clerky) might not be intuitive, which is where we come in 🥰
Clerky is the highest quality online legal service, with more startup lawyers referring founders to them than anywhere else. Here are two examples (from the GC at Delphi Digital Labs and a fellow startup lawyer) that outline why it's often better for founders to use Clerky for simple paperwork like incorporation than even using formal legal counsel (ie: it's cheaper and faster!). Plus, they've helped tens of thousands of startups incorporate – startups that formed on Clerky have gone on to $1B+ valuations and acquisitions, and even IPO.
You can check out the marketplace for discounts on Clerky! Here's a sneak peek for Gen Z VCs founders 👀: You'll get a $50 discount off their Company Lifetime Package which includes legal help with incorporation and beyond, as well as $5,000 in AWS credits, a minimum of 50% off first 409A valuation, and even VIP support and personalized help finding a startup attorney.
Security & Compliance
Stay compliant & secure as you scale
Have you ever heard of SOC 2? ISO 27001? HIPAA? GDPR? or PCI? Yeah me neither 😳… and it sounds pretty intimidating. These are common security and compliance frameworks that you might be asked to adhere to in order to operate and grow your startup. When you think about brand building as a startup, so much of it ties back to trust – and if you're managing customer data, how you hold, maintain, and keep that data safe is of the utmost importance (this is true no matter what size business you're selling to).
Ideally when you think about compliance, all of these assessments, audits, and policies should be in one streamlined and centralized place.
Vanta
Vanta is the leader in the nascent Cloud Compliance software category, and the fastest path to being audit ready. They automate more than 80% of what's required to get and maintain SOC 2 compliance (as well as the four other compliance frameworks I mentioned above). They do this using API integrations and automated workflows, and in partnership with third party auditors who are trained to perform the audits using Vanta's platform at a huge discount.
Their website is chalk full of helpful guides for compliance newbies like myself, including guides like:
What is a SOC 2 Report?
Type I versus Type II reports
Obtaining a SOC 2 report
2,500+ companies from 45 countries are using Vanta today, including Lattice, Kustomer, Calm, Loom, Modern Treasury, Gem, Affinity, and more - including many other companies represented by the Gen Z VCs community.
You can check out the marketplace for discounts on Vanta! Here's a sneak peek 👀: Get $1000 in credits!
Design
Design is a core part of every startup – where and how you make your first pitch deck, establishing your brand colors and identity, and even building your product markups as you scale.
Speaking personally, I'm a big fan of Canva – it's what I used to make the market map above and I've been using it for years. Their background remover tool is 😍Canva is also wildly popular among college students from what I've seen, so it can be easy to graduate and fall back on a familiar too.
Many of the founders we surveyed (76%) use Figma, especially for their collaboration-first approach. Even as a VC, I've sat through hundreds of pitch meetings where pre-product founders walk me through the onboarding flow or product mock-ups for their startup in Figma – it's always very seamless and founders love it! Unfortunately they don't have a startup discount though 😕
And then for all you professional designers-turned-founders out there, you're likely familiar with Adobe. Can't go wrong, and design tools is often based on personal / team preferences in UI and functionality over anything else.
You can check out the marketplace for discounts on Canva as well as DocSend! Here's a sneak peek 👀: Receive a 45 day extended trial for Canva Pro, and up to 90% off (1yr) for DocSend.
APIs & DevOps
It's TIME TO BUILD 🔧
Lol i kid, but today, low-code/no-code environments make it much easier (and faster) for startups to go from 0 to 1. You can build custom apps & websites without programming using tools like Amazon/AWS (Honeycode), Webflow, and Bubble – all of which came up in our founder survey.
If you are choosing to code, you've likely heard of Github (owned by Microsoft) – millions of developers and companies build, ship, and maintain their software in their cloud – you can check out a discount in our marketplace under Microsoft's offering here!
And then on the APIs side, founders recommended tools like Postman (API platform for building and using APIs) & Zapier (Connect your apps and automate workflows).
So whether you're a non-technical or a technical founder, there are definitely options for you to check out to grow/scale your development operations.
Cloud Credits
And last but not least… we have cloud credits. If you're building a company, app, or service in the digital age, you're likely using some form of cloud services to scale your product. This could be anything from compute power, database storage, content delivery, or other functionality.
The big three are arguably AWS, Google Cloud, and Microsoft Azure – and luckily we've got discounts for all three of them in our marketplace 🥰💸 You can get up to $1,000 in AWS credits in the marketplace, as well as a discount on Microsoft Azure and Google Cloud!
In Conclusion…
This was a very long article, but hopefully comprehensive in providing helpful resources / links, and introducing some more technical concepts/offerings in more detail. And most importantly, this all ties back to the marketplace and direct impact – creating actionable opportunities for the next generation of founders, versus just writing about them ❤️ This article complements our marketplace in many ways, and we're grateful to our dedicated partners for helping us craft and curate these resources alongside the marketplace discounts. We worked in tandem with ~20 partners that came up in the survey to pull together these resources, thank you to everyone who helped support this massive effort!!!!
We also will continue to curate resources through the community. To the 71 founders who helped us curate our marketplace, THANK YOU. If you're a fellow founder in the Gen Z VCs community who wants a discount to something not currently listed, fill out this form here & we'll do our best to accommodate! https://forms.gle/QVobPmJmPLbvtMti6
xoxo
Founder of Gen Z VCs
P.S. – I'll also start linking helpful founder resources I come across here that I use myself & send to the founders I work with.
Here's a curated resource library from fellow (and OG) Gen Z VC, Omar Sebai of Valia Ventures. It includes curated resources from best-in-class experts on everything from how to run a board meeting & write investor updates, guides on reaching product/market fit and more.
A $50k equity-free grant for startup founders, shared by Su Wern Khor**
**